In the 1960s, battles over racial equality and "urban renewal" ripped San Francisco apart. Beginning the decade prior, residents of the Fillmore, the only black-majority part of the city, suffered from a "slum clearance" program, labeled "Negro removal" by the legendary writer and activist James Baldwin. In response, a small but powerful labor union—the International Longshoremen's and Warehousemen's Union, or ILWU[1]— attacked the city's lack of affordable housing and pervasive residential segregation. In the heart of San Francisco, this union financed an integrated housing development for working-class people. The 299-unit St. Francis Square housing cooperative opened in 1964 to little fanfare, but for the working class and ethnically diverse people who bought into the cooperative, it was a dream. More than fifty years later, St. Francis remains a vibrant, self-consciously diverse community of non-elite homeowners in a city again facing intense gentrification.
The African-American "Great Migration" and San Francisco Landscape
Before World War II, very few blacks lived in San Francisco or anywhere else in the Bay Area. African-Americans made up, literally, less than 1 percent of San Franciscans and only about 3 percent of Oaklanders. All that changed during World War II in what Marilynn S. Johnson called the second gold rush for work in shipbuilding. This migration to the Bay Area echoed national trends in which blacks fled the Jim Crow South for cities in the Northeast, Midwest, and, increasingly, the West.
Alas, blacks found California far from the "Promised Land." Many whites in the Bay Area embraced white supremacy, making the black experience in the San Francisco Bay Area quite difficult. Especially after the war ended and the economy slowed, African-Americans found jobs hard to come by and experienced widespread housing discrimination. Even Willie Mays, the future Hall of Famer of San Francisco's Giants, could not purchase a house in one affluent area due to restrictive covenants. As in other U.S. cities, blacks became ghettoized: forced to live in overcrowded, low-quality housing in areas suffering from pervasive police brutality and racism in the judicial system, along with underfunded schools and hospitals. In San Francisco, the Fillmore (part of but also sometimes called the Western Addition) became a black ghetto.
White Flight and Urban Redevelopment
After World War II, U.S. cities experienced massive suburbanization as millions of white city dwellers became suburbanites. Kenneth Jackson outlines what drove this shift in Crabgrass Frontier: Americans' desire for freestanding, single-family houses surrounded by grass lawns; profit-seeking real estate and construction industries; the automobile; government financing of highways  and subsidies for home owners. However, "white flight"—the fear of living in diverse cities—played perhaps the most significant role.
In the 1950s and '60s, white flight caused economic and political elites at both urban and national levels to fear for the future of cities, especially real estate values. They embarked upon an initiative to attack "urban blight" by engaging in "slum clearance," supposedly to help the downtrodden. In the words of one defender of this establishment liberal viewpoint, "The primary function of urban renewal is to improve the lives of the urban poor."
Unfortunately, these "leaders," overwhelmingly white and male, were as racist (and profit driven) as ordinary white Americans. Cities including San Francisco continued losing middle-class white residents while the lives of black residents (and other peoples of color) did not see theirs improve. Even President Lyndon B. Johnson acknowledged these problems: "Wealthy [white] suburbs often form an enclave whereby the well-to-do and the talented can escape from the problems of their [black] neighbors, thus impoverishing the ability of the city to deal with its problems."
The Fillmore and "Redevelopment"
From the late 1940s through the '60s, city and federal officials, working closely with real estate developers, labeled the Fillmore "blighted" and in need of "renewal." Using the power of eminent domain, the San Francisco Redevelopment Agency cleared hundreds of businesses, several thousand structures (largely classic Victorian houses still standing elsewhere in San Francisco including the "Painted Ladies"), and more than 10,000 (mostly black) people. This 44-block project—later expanded to more than 60 blocks—also turned Geary Street into an eight-lane highway that effectively created a Mason-Dixon line, sealing off the Fillmore (poorer and blacker) from Pacific Heights (wealthier and whiter).
Typically, displaced peoples found themselves with nowhere to go. James Baldwin attacked the Fillmore project in an iconic 1963 interview on Boston television station WGBH:
A boy last week—he was 16, in San Francisco,—told me on television….He said, "I've got no country. I've got no flag." Now, he's only 16 years old, and I couldn't say, "You do." I don't have any evidence to prove that he does. They were tearing down his house because San Francisco is engaging—as most Northern cities now are engaged—in something called urban renewal, which means moving the Negroes out. It means Negro removal—that is what it means. The federal government is an accomplice to this fact.
Enter the ILWU
The ILWU represents tens of thousands of workers who load and unload ships (traditionally called longshoremen) and others in the transportation industry, especially in warehouses and canneries. They remain a powerful force along the U.S. Pacific Coast as well as in Alaska, Hawaii, British Columbia, and Panama. Born out of the 1934 "Big Strike," the ILWU became well known for three reasons. First, many considered Harry Bridges, ILWU founding president, the most powerful, left-wing union leader in the nation. Second, the union transformed what had been a miserable occupation into a well-paid, safer career in which workers had dignity and a surprising amount of power—turning "wharf rats" into the "lords of the docks." Third, the union's radical ideology and policies promoted both racial equality and a socialistic "low man out" system that gave the first job to those who had worked the fewest hours. Although never fully inclusive, the Bay Area's Local 10, its largest and most important branch, integrated its gangs in the 1930s and took in thousands of African-Americans in the 1940s. After the war, the ILWU also organized the downtrodden, mostly nonwhite, Asian workforce on Hawaii's docks and plantations. A decade before Brown v. Board of Education and two decades before the Civil Rights Act of 1964, the ILWU willingly integrated itself.
The ILWU International leaders, based in the Bay Area, observed the Fillmore's massive changes. Committed to racial equality, economic justice, and—not insignificantly—possessing a robust pension, the union's top leaders (all white men and all leftists) decided to create some affordable housing in their city. Lou Goldblatt, in charge of the union's warehouse division and the International's second-in-command, took charge.
The union sought to build housing that working-class San Franciscans could afford. Goldblatt later recalled: "There was no reason why the pension funds should just be laying around being invested in high-grade securities….I thought there was no reason why that money shouldn't be used to build some low-cost housing." Goldblatt referred to the ILWU-PMA Pension Fund, the PMA being the Pacific Maritime Association, which represents shipping companies in dealings with the ILWU.
The San Francisco Redevelopment Agency had set aside three blocks of land—a fraction of the razed portion of the Fillmore—for affordable housing that the newly created ILWU Longshore Redevelopment Corporation built upon. Claude Stoller, an architect with Marquis & Stoller who had grown up in a union-owned housing cooperative in New York City, designed the community, which took three years to build.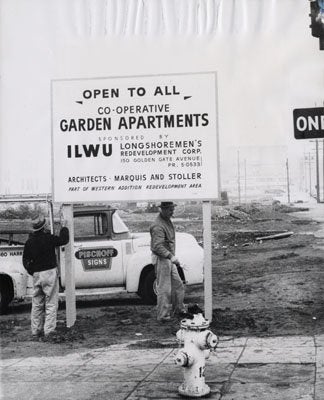 Advertising highlighted St. Francis as "open to all," meaning people of moderate income. As reported on FoundSF, with a down payment of $410, anyone could purchase a one-bedroom unit (also the cost of a co-op share) while three bedrooms cost $610. Monthly payments ranged from $84 to $140 and included the mortgage, utilities, insurance, taxes, and co-op's reserves for maintenance.
"Open to all" also meant ethnic and racial inclusion. ILWU leaders and the project's sales manager, Ruth Maguire, ensured that the co-op's demographics accurately reflected that of the city's and, most particularly, its working class. Josephine Solomon, a resident, described St. Francis in her 1964 letter to the editor of the San Francisco Chronicle:
I've just moved into my new home in St. Francis Square…and living here is quite clearly going to be exhilarating and, more important, the best possible place in which I can raise my children. About 100 families have already moved in…and we have representatives of all races and colors living together as neighbors. There is no more beautiful sight in this town than our marvelous, mixed-up collection of white, brown, and yellow children playing together in the sunny community square every afternoon.
A year later, in 1965, five "cooperators" traveled to Selma, Alabama, to join legendary voting rights protests. Other shareholders collected hundreds of pounds of food and supplies for the march from Selma to Montgomery, Alabama. Another early resident, prior to her fame, was author and activist Alice Walker.
From its inception, the cooperative's manager, Revels Cayton, promoted racial integration. An African-American, ILWU member, and community organizer, Cayton sought to heal the Fillmore by connecting St. Francis cooperators with local black institutions such as schools, churches, and the YMCA. Cayton also helped create "Plant Day," when residents worked on their decks and community's gardens (a series of interior courtyards runs through St. Francis) while socializing. These working parties often segued into potlucks. Decades later, Plant Days still occur.
The St. Francis Square Housing Cooperative, Fifty-One Years and Counting
Last year, the St. Francis Square housing cooperative, often called "the Square," celebrated its 50th anniversary. The San Francisco Public Library commemorated this milestone with an exhibit and other events. Some original residents still live there including ILWU pensioners. In many homes, the third generation now owns the property.
Geographer Rachel Brahinsky, writing about contemporary gentrification in San Francisco, suggests that, "The shape of a city signals some of the basic values of the people who live there." The ILWU's effort to create affordable integrated housing for working people says much about its values and efforts to define the city that birthed the union and remains its headquarters. Brahinsky continues, "The San Francisco you love exists because, as capitalism's 'creative destruction' tears through the urban landscape, community advocates fighting for what I call an 'ethical city' try to reshape that destruction—and they sometimes win." The existence of the St. Francis Square housing cooperative proves she may be correct.
[1] In 1997, the ILWU voted to make its name gender neutral even though the overwhelming majority of its members were—and remain—men. Hence, now their name is the International Longshore and Warehouse Union.