New Year's Day 2023 marks the 100th anniversary of the Rosewood Massacre, when violence broke out in the prosperous, mostly African American town of Rosewood, Florida, after a Black man was falsely accused of assault by a white woman in the neighboring community of Sumner. Over the course of the next seven days, at least eight people would be killed and every Black-owned building burned to the ground. Rosewood's African American population would never return following this forced displacement.
The destruction of Rosewood wasn't an isolated event. It occurred in the years following World War I, when anti-Black violence became disturbingly common following a renewed push by African Americans for equality after helping to fight imperialism during the war. This and similar events were a continuation of a tradition of lynching Black Americans in the nineteenth and twentieth centuries, as detailed by Amy Kate Bailey and Stewart E. Tolnay in their 2015 book, Lynched: The Victims of Southern Mob Violence. In addition, hundreds of communities were subjected to full-scale assault by white supremacist mobs. While these incidents were historically referred to as "race riots," the term "massacres" is considered most apt today.
So unfamiliar is this history that when white Americans are confronted with portrayals of it in the media and popular entertainment, they must check if such events actually occurred. (This recently happened when HBO's Watchmen premiered in 2019 and opened with scenes of the Tulsa Massacre.) While much of the violence concentrated in the nation's urban centers is becoming better researched and documented, unearthing these histories in rural locations like Rosewood is equally important and faces unique challenges. Examining these events corrects the erasure of Black history, itself a form of white supremacy. Moreover, scholarship of lynchings and race massacres in both urban and rural settings also holds important lessons for understanding modern America.
What Happened in Rosewood, Florida?
New Year's Day 1923 on the Gulf Coast of Florida was partly cloudy. Fifty-one-year-old Sarah Carrier and her granddaughter Philomena walked familiar paths as they traveled between Carrier's home in Rosewood and the Taylor residence in neighboring Sumner. Sumner, a mostly white company town, was operated by members of the Cummer family, who were based across the state in Jacksonville. Cool breezes blew through nearby swamps as Sarah and Philomena washed and hung laundry for the Taylors. At one point, the pair witnessed a white man they didn't recognize leave the Taylor house. An hour or so later, a visibly shaken Fannie Taylor emerged as well. As white residents of Sumner gathered, Taylor chose a common lie, claiming she'd been attacked by an unnamed Black assailant. Taylor and others couldn't imagine the horrors this choice would unleash over the coming days.
Levy County sheriff Robert Walker quickly deputized a small party of citizens. At first, Walker assumed the assailant was Jesse Hunter, an escapee from a nearby chain gang rumored to be in the area. As Vivien M. L. Miller demonstrates in Hard Labor and Hard Time: Florida's "Sunshine Prison" and Chain Gangs, this form of punishment emerged a decade or so after the Civil War as a legislative step to keep African Americans in lifelong bondage.
As tracking dogs led Walker's group in the direction of Rosewood, a separate mob formed and captured Sarah Carrier's nephew, Aaron Carrier, in Rosewood. They encountered Walker's group as they dragged Carrier behind a car toward Sumner. Walker placed Aaron Carrier in protective custody and transferred him to Bronson, the county seat located twenty-five miles away, northeast of Otter Creek. Then, Walker, his deputized citizens, and an increasingly drunken mob continued their search, soon arriving at the home of a Black man named Sam Carter.
Oral histories collected decades later explain why the dogs led the mob to Carter's home. Apparently, the white assailant and Sam Carter were both Masons. While Masonic lodges were segregated at the time, Carter reportedly honored the men's shared fraternity. He agreed to take the white man out of town and encountered the mob upon returning home. When Carter couldn't satisfactorily answer questions about a supposed Black assailant, a member of the mob shot him in the face. His body was hung as a warning to other African Americans. Sarah Carrier's son, Sylvester Carrier, also encountered the mob but was not murdered. He went to Sarah's house and encouraged others to join them, thinking there would be safety in numbers should further violence erupt.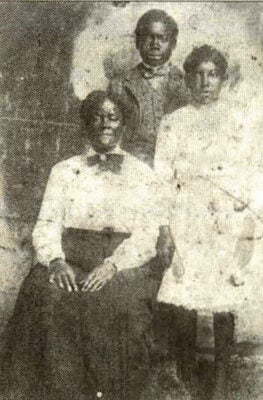 Two days passed before violence resumed. Perhaps inclement weather made it difficult to continue the original rampage, or perhaps whites spread rumors that Rosewood residents were harboring the alleged Black assailant. Regardless, on the evening of Thursday, January 4, 1923, a mob of white citizens descended on the Carrier home. Whites first attempted to force their way in before trying to burn the house. A pitched gun battle began as the Carriers defended themselves. Both Sylvester and Sarah Carrier were mortally wounded, and at least two white people later died from their injuries. The mob left in the early morning after exhausting its ammunition. African Americans fled their homes, hiding in the nearby swamps or with a handful of sympathetic white families.
Florida Governor Cary Hardee monitored the situation. His interest was more economic than humanitarian, however, as he worried the events might negatively impact northern tourism to the state. The sheriff telegrammed the governor and assured him there would be no more violence.
A substantially larger mob, reinforced with whites from nearby communities, returned to Rosewood within hours of Walker's telegram. This group included Klansmen who had gathered in nearby Gainesville for a large KKK rally the previous weekend. The mob began burning homes and other structures. A fifty-year-old widow named Lexie Gordon was shot while attempting to flee her burning home. She became the sixth recorded death. The seventh occurred when whites driving toward Rosewood shot Mingo Williams in the head. Williams's only offense? Being Black and visible to whites.
Around 4:00 a.m. on Saturday, January 6, 1923, a pair of white brothers brought a train through Rosewood. They worked quickly and quietly in near freezing temperatures to get Black women and children on the train. They traveled to depots across north Florida—Otter Creek, Archer, Gainesville, and Fernandina Beach—where families disembarked and descendants of those who survived the Rosewood Massacre live to this day. As the train evacuated survivors, back in Rosewood, James Carrier emerged from the swamps in which he had been hiding to bury his recently murdered brother, Sylvester, and his mother, Sarah. A white mob returned as he completed his solemn task. They forced James to dig his own grave before lynching and burying him next to his mother and brother.

On Sunday, January 7, 1923, the violent white crowd reappeared. They systematically burned every Black-owned building in Rosewood. Black residents never returned, and Rosewood's destruction remains one of the largest violent displacements of African American people in our nation's history.
Preserving History in the Aftermath of the Rosewood Massacre
It took more than six decades before this history became more widely known. Public awareness grew in the 1980s as journalists began interviewing survivors and descendants. Among them was Philomena's son, Arnett Doctor, who joined Minnie Lee Langley, Lee Ruth Davis, and others in a publicity campaign designed to bring attention to a lawsuit against the State of Florida. They challenged the State to pay compensation for the events of 1923, as it became clear that government officers, including Sheriff Walker and Governor Hardee, had been negligent in controlling the spread of anti-Black violence. (In 1993, legislators chose the term "compensation" instead of "reparations" as they felt the latter might weaken the case.)
Regardless of the intention of legislators, Florida House Bill 591 remains one of the primary precedents for African American reparations in the United States. It was signed into law by Governor Lawton Chiles on May 4, 1994. The bill paid monetary compensation to survivors and descendants and established a scholarship fund, which was expanded in 2020 to support up to fifty minority students attending state universities, with priority given to Rosewood descendants.
The Florida legislature appointed a team of academic researchers to investigate the destruction of Rosewood prior to passing the bill. In addition to navigating academic rivalries and accusations of misconduct, the researchers faced a lack of tangible evidence. Important pieces of documentary evidence were either misplaced or intentionally removed from county archives. This included the records of a special grand jury convened by Governor Hardee in February 1923, which had been discussed in newspapers such as the Tampa Tribune at the time. After hearing dozens of testimonies, the all-white jury claimed to have insufficient evidence to prosecute. To this day, not a single person has been charged for the destruction of Rosewood.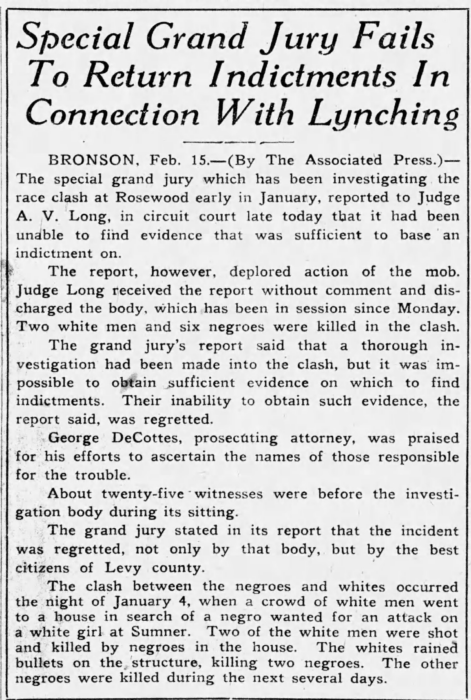 Challenges aside, the group of researchers returned a 1993 report, skillfully weaving together oral histories and limited archival research. Their findings have stood the test of time and supplied materials for several peer-reviewed articles. Additional questions and research interests have emerged in the thirty years since their report. New absences have been revealed, including that of the plat map of Rosewood. While referenced in many property deeds of the time, it remains the only missing plat map in the county archives. Fortunately, emerging archaeological methods provide ways of reconstructing this information, answering lingering questions, and sharing Rosewood's history with the public.
My interest in Rosewood began in 2005 as a graduate student at the University of Florida. I spoke with descendants and their allies to identify pressing questions. I took tentative steps to conduct research in Levy County. I sifted through thousands of historical deeds to identify and reconstruct the boundaries of hundreds of historical properties using computer mapping software. I consulted census records, historical aerials, and oral histories. Eventually, I produced maps identifying the precise locations of Rosewood's property owners through time. This allows us to determine if African Americans in Rosewood lost their properties to unpaid taxes, as previous researchers and others contend.
As it turns out, this was not the case. Many of Rosewood's Black families retained ownership of their properties for months and years before selling. John McCoy and his wife Mary, for instance, purchased nearly 150 acres in 1903. They sold their property, under obvious pressure, to a pair of white men at a rate of approximately $3 per acre in May 1923. The white men subdivided the property and sold it at for approximately $10 per acre, unambiguous evidence of the ways unscrupulous whites profited from the Rosewood massacre. Such actions robbed Rosewood descendants from the same intergenerational wealth disproportionately enjoyed by millions of white Americans today.
Understanding the spatial layout of Rosewood addresses other questions as well. Many historical studies have sought to partly excuse the actions of white mobs as a form of shared madness. In Rosewood, our knowledge of the mob's movements across space and time demonstrates the premeditated nature of their actions. Informed by oral histories, actions suggest that after an unnamed man shot Sam Carter in the face and publicly lynched him on January 1, 2023, the mob felt it necessary to attack the Carrier home in order to silence the remaining witnesses who could identify Fannie Taylor's true assailant. We know the Carrier house was located to the north of Rosewood. The mob bypassed most of Rosewood when it attacked the home on January 4, 1923.
Get Our Free Weekly Digest
Archaeological investigations at a dozen properties provide tangible evidence corroborating this and earlier research. This work also supports new forms of public outreach. This includes a lesson plan focusing on the McCoy farmstead, digital storytelling projects, and interactive 3D products. Most recently, a virtual version of Rosewood's African American cemetery combines archaeological mapping, ground penetrating radar (GPR), and death certificates to reveal additional aspects of Rosewood's history. These data are crucial for potentially identifying the final resting places of victims of the 1923 massacre.
Over time, events like the Rosewood and Tulsa massacres have become less common, supplanted by various forms of structural racism and symbolic racial violence. Whereas interpersonal violence was a common way of disenfranchising African Americans a century ago, white supremacy today relies on a mix of symbolic—including hypersexualized representations of peoples of African descent on film, the rise of eugenics' "scientific" speculation about the genetic inferiority of African Americans—and structural violence—including police brutality and the disproportionate rate of incarceration among Black communities (as skillfully examined by Michelle Alexander in The New Jim Crow: Mass Incarceration in the Age of Colorblindness), as well as sundown towns and redlining that have prevented Black people from owning property. Rural Black towns once numbered in the hundreds, but they have mostly disappeared from the American landscape. If property is wealth, then white America has directly or implicitly supported the unfair seizure and/or transfer of this wealth from Black hands for centuries.
Additional Resources for Teaching the Rosewood Massacre
Rosewood Heritage & VR Project — https://www.virtualrosewood.com/
Rosewood Heritage Foundation, Inc. — http://rememberingrosewood.org/
Real Rosewood Foundation, Inc. — https://www.rosewoodflorida.com/
Editor's note: An earlier version of this story suggested anachronistically that WWI was a fight against fascism.
---
Support JSTOR Daily! Join our new membership program on Patreon today.