The history of the wedding dress is shorter than the history of weddings, and even shorter still than the history of marriage. An ancient Chinese myth contains one of the oldest known references to such a garment, and it goes something like this:
Once upon a time, in a green and misty country at the center of the world, there lived a clever dog who was also a dragon. Naturally, he was unmarried. This dragon-dog, named Panhu, was the servant of an emperor, who was at war with a fractious general. One day, the emperor proclaimed that any man who could bring him the head of his enemy would be given the hand of his daughter in marriage.
Panhu was not a man, but being loyal and courageous he promised to become one upon vanquishing the enemy so he could marry the princess. He succeeded, changed into human form, and was engaged to the emperor's daughter. To make sure that the union was a lucky one, the empress dressed the princess in a beautiful phoenix dress and phoenix crown, and Panhu carried his bride off to live in the southern mountains. They were happy and had many children. When it came time for their own daughter to marry, a real phoenix flew out of a mountain and presented the girl with a colorful phoenix dress all her own.
Nowadays, whether we are referring to the voluminous white confections found in Western bridal magazines or the sleek red phoenix dresses with mythical roots that are still worn by brides in China today, the wedding dress has become its own kind of talisman. We tend to focus on color, with white being the preferred choice for brides in the West, from Norway to Argentina, and red being the more appropriate color for traditional Eastern brides, be they from South Sudan or Singapore. We ascribe meaning to these color choices, as if white could only suggest purity and new beginnings, while red could only signify life, luck, and celebration. But this has not always been the case, and the wedding dresses we hail as "traditional" are, for the most part, relatively modern, no matter where they come from.
Unlike swans, ospreys, coyotes, and termites, the primates known as Homo sapiens do not generally mate for life. While some of us naked apes may find one partner and stay with them forever, never straying, history tells us that it has not been the norm for our species. Nevertheless, marriage, a social technology, has sprung up in most societies and on every inhabited continent.
For the majority of its existence, marriage has been a worldly matter, having to do with the transfer of property, the creation and support of children, the tracking of bloodlines, and the control of women. For these reasons, it was usually a man-woman affair, regardless of a society's feelings toward homosexuality. But although there have been marriages throughout most of human civilization, this does not mean that there were weddings. There are, for example, no wedding ceremonies involving an exchange of vows in the Bible. Marriages were made official through the signing of a contract or some other means of formalized agreement, but a marriage was not generally considered to be a spiritual or even romantic occasion. And because there were no weddings, for a long time there could be no true wedding dresses, either.
While the peoples of ancient Sumer, Babylon, and Assyria celebrated romantic and erotic love in art and poetry, the question of marriage was far more transactional. Herodotus's Histories tell of the Babylonian marriage market, where each year the marriageable young girls were brought before a crowd of men who bid for them, like slaves, based on their beauty. The "most beautiful" were chosen as wives for the wealthy, while the "ugliest" women who did not sell were given away to commoners along with monetary compensation for their upkeep, like problematic farm animals.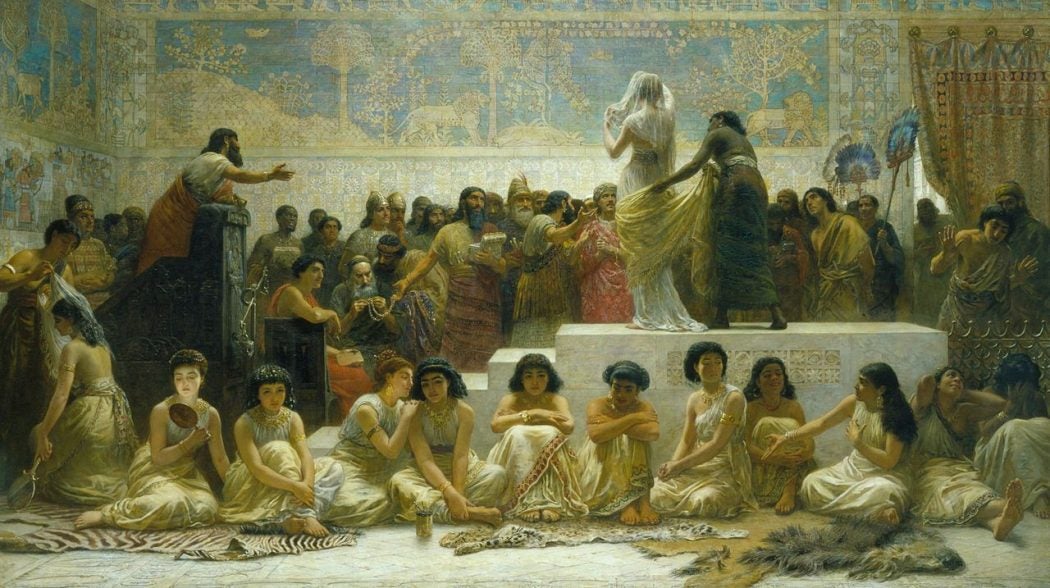 One can surmise that the women of Babylon's marriage market were expected to look market-ready, so as to fetch the highest possible price (as well as, presumably, be sold into the most comfortable circumstances). Herodotus does not say what these women wore, but it's likely that someone tried to make sure they looked their best, like apples shined up for display in the apple cart.
In 1875 the British artist Edwin Long painted an interpretation of the scene, based on Herodotus's description as well as imagery from Assyrian artifacts. All the potential brides in Long's painting wear draped garments in cream or white, while the men bidding for them wear a mix of darker hues. But this color scheme has more to do with Victorian ideas of virgins and weddings and purity—associations that almost certainly did not exist in the ancient world—than any real historical precedent. Still, at certain times and in certain places, ideas about the kind of beauty or virtue that a new bride should possess have snagged on a story, a myth, a part of culture, or a famous marriage, and traditions and superstitions have precipitated. Over time, these precipitations have calcified into ceremony.
For most of history, even Western brides did not wear white. In ancient Rome, where marriages were celebrated with parties and banquets—an important social event, if not a sacrament—brides wore long veils of deep yellow over a complicated six-part braided hairstyle. The yellow veil was described as being "the color of flame," and thus the brides themselves were like torches, bringing light and warmth to their new husbands' homes.
Ancient Athenian brides wore long violet or light reddish robes, cinched at the waist by a girdle that the groom was meant to loosen later, symbolizing the loss of her virginity. The marriage was made official by a feast, followed by a torch-lit procession that ferried the couple to the bridal chamber. Upon entering, an Athenian bride was given a quince fruit to bite into, like Persephone tasting the pomegranate seeds from the underworld orchards that bound her to her new husband, Hades.
A key theme of weddings is the symbolic passage from childhood to adulthood, from one distinct stage of life to the next. This is especially true for women, who pass from the virginal, springtime realm of girlhood into the fruitful maturity of married life, where they will be expected to produce children. In many cultures, the rite that jettisons young women into a new world of sex and motherhood is played out as a kind of death of her old self, complete with ritualized grieving and formal lamentations. At times, the clothes that brides wear have reflected these themes.
China may be the first place where brides were expected to wear a particular color. During the reign of the Zhou Dynasty some three thousand years ago, brides and their bridegrooms both donned sober black robes with red trim, worn over a visible white undergarment. The wearing of specific colors and designs was not reserved for weddings. Zhou rulers instituted strict clothing laws that dictated what could be worn, by whom, and when, based on profession, social caste, gender, and occasion. These rules were still in effect by the start of the Han Dynasty, around 200 B.C., when brides and bridegrooms still both wore black. The Hans were purportedly less strict in enforcing clothing edicts, but nevertheless prescribed that certain colors be worn at certain times of the year: green in spring, red in summer, yellow in autumn, and black in winter.
By the seventh century, during the reign of the Tang Dynasty, with clothing edicts further loosened, it became fashionable for brides to wear green to their weddings—perhaps as a nod to the springtime clothing of the previous Han period—while their bridegrooms typically wore red. A more relaxed social order led to more diverse and experimental fashions, with women wearing short dresses and even traditional menswear in their daily lives. The Tang Dynasty ruled during a period of much immigration and cultural influence that flowed from China to both Japan and the Korean peninsula, and the fashion influences from the Tang period can still be seen in some traditional Japanese and Korean bridal fashions today, both in color and in form.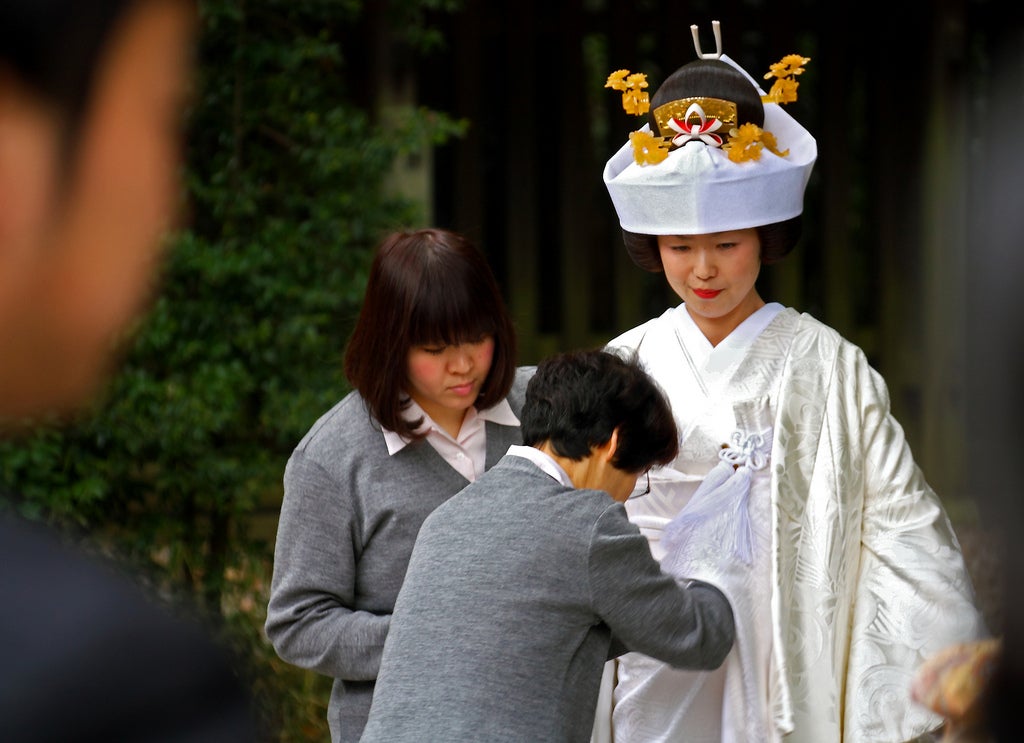 In Japan, a bride often wears several kimonos of different colors throughout her wedding day. A Japanese Shinto bride wears white. Beginning in the fourteenth century, Korean silk wedding robes were red, green, and yellow. Much like Zhou- and Han-ruled China, traditional Korean fashions were also strictly regulated by color. Children and unmarried adults in Imperial Korea wore bright hues, whereas after marriage, men and women of this period both wore white or other neutrals until their old age. The very elderly wore white only, a color of mourning, and everyone was required to wear white for three years after the death of an emperor or a member of his family.
Traditional Korean brides were also expected to embody a common theme in bridal fashion throughout the world, which is the emulation of royalty. This is, in part, how Western brides came to wear white as well, and in turn, how a particular kind of white Western wedding dress began to colonize the weddings of the whole world.
A wedding dress for a first marriage in Europe and European-dominant countries is now usually white by default, and any woman getting married in another color does so as a deviation. But the ubiquity of this style is relatively recent, becoming de rigeur only by the middle of the nineteenth century, when Queen Victoria married Prince Albert in 1840. Before that, although brides did wear white when they could afford it, even the wealthiest and most royal among them also wore gold, or blue, or, if they were not rich or royal, whatever color their best dress happened to be.
The earliest recorded instance of a white wedding dress in Western culture is that of the English Princess Philippa at her wedding to the Scandinavian King Eric in 1406. She was dressed in a white tunic lined with ermine and squirrel fur. In 1558, Mary Queen of Scots wore white during her wedding to the soon-to-be King of France, despite the fact that white was a color of mourning for French queens at the time. For the next few centuries, white remained a popular but by no means obligatory color for royal weddings (Princess Charlotte, when she married Prince Leopold of Saxe-Coburg-Saalfeld in 1816, wore an empire-waisted dress in metallic silver lamé). White dresses did not symbolize virginity or even purity, but rather were costlier and harder to keep clean, and thus communicated the status and wealth of the wearer.
Up until the middle of the nineteenth century, no woman, not even royalty, expected to wear her wedding dress only once and then never again—an idea that would have been absurd even for the very rich before the industrial revolution. Even Queen Victoria repurposed her own wedding dress and veil for subsequent use. If a non-royal woman did have a new dress made especially for her wedding, it was likely to become her new Sunday best, either as is or in an altered or dyed state, until she wore it out or the fashions changed beyond the powers of alteration. More often than not, a woman got married in the best dress she already owned.
All of this would change for Western brides after the marriage of Queen Victoria and the industrial revolution, thanks in large part to a few new technological advances, most notably photography and the spread of illustrated magazines.
When Queen Victoria married her first cousin Albert, the German prince of Saxe-Coburg-Gotha, she wore an opulent pale dress festooned with orange flower blossoms that was designed in the style of the day—a tight bodice that hugged the natural waist, and a voluminous, full skirt, held out from the body with crinolines and petticoats. While frequently referred to as white and painted so in portraits, the dress itself, now in the Royal Collection (minus its lace overlay), is really more of an ivory, or even a light pink—champagne, it might be called by a modern bridal catalogue. In place of a jeweled crown, the young royal wore a wreath of orange blossoms—a richer version of what a poor country girl might don for her own nuptials—and this further endeared the new queen to her subjects.
Indeed, the British people so romanticized the relationship between Victoria and her prince consort, who were thought to embody an ideal of domestic bliss, that young women sought to copy her wedding costume in any way they could. There are no photos of Queen Victoria and Prince Albert on their wedding day, although a series of court photos taken fourteen years later, in 1854, when the royal couple were in their mid 30s, are frequently mistaken for wedding portraits because the queen appears in a light colored dress, veil, and crown of flowers. Still, illustrations of the queen on her big day were widely distributed.
The rise of photography, and of wedding portraits in particular, also went a long way in popularizing the white-wedding-dress trend. More than simply being the choice of a popular queen, white dresses looked good and stood out in the sometimes muddy-looking new black-and-white or sepia-toned photographic portraits. They looked distinct and provided a good background against which to showcase the beauty of the bride.
By 1849, women's magazines were already proclaiming that not only was white the best color for a wedding dress, but that it had in fact always been the best and most appropriate choice. In a bit of revisionist history, Godey's Lady's Book announced that "[c]ustom has decided, from the earliest ages, that white is the most fitting hue [for brides], whatever may be the material. It is an emblem of the purity and innocence of girlhood, and the unsullied heart she now yields to the chosen one." Victorian ideals of weddings, romantic love, and purity were projected backwards to rewrite the white dress as a symbol of innocence and virginity rather than wealth.
The trend caught on, and Queen Victoria's own 1840s-style wedding dress—the slim waist, the lace, the full nineteenth-century skirt over petticoats and crinolines—is still considered the most recognizable "wedding" silhouette. It is now considered the "classic" wedding dress all over the world. Even though the style was simply in keeping with every dress that Queen Victoria wore at the time, reflecting the quotidian fashion of the day, its otherness is now part of what makes the concept of a wedding dress so distinct. For many women, it is the only time that they will wear a dress like that, one in the style of the nineteenth century. Many Chinese brides will take part in an elaborate wedding photo shoot while wearing a Western white dress—sometimes even traveling abroad to Paris or New York for the sole purpose of taking these photos—even if she chooses to wear a traditional Chinese ensemble for her actual wedding ceremony.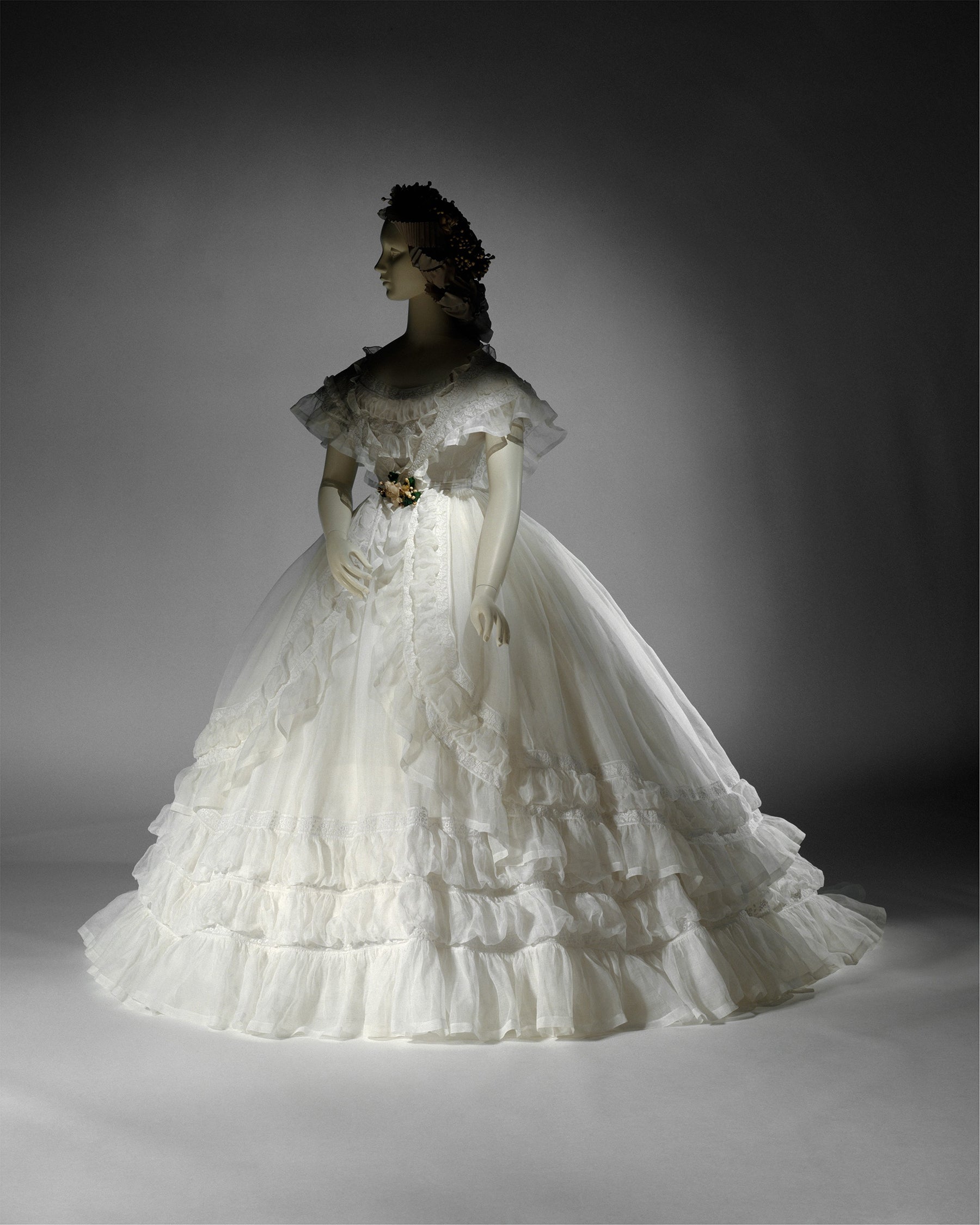 Traditional African tribal wedding garb can still be found throughout the continent. The Ndebele people of South Africa, renown for the distinctive ringed jewelry worn to elongate the neck, still dress brides in a beaded train called a Nyoga that hangs from the shoulders onto the ground, trailing behind her in a sinuous, snakelike motion. (Nyoga in fact means snake.) But in urban areas, and even some more pastoral ones, such as the Fransfontein region of Namibia, it has become more and more common for weddings to be planned in the Western style, with a big white dress, the groom in a tuxedo, a rented expensive car, and bridesmaids and groomsmen in matching attire. There, as in much of the rest of the world, weddings have become a focal point for conspicuous consumption. Not only is the bride expected to acquire a dress that she will never wear again, so are the members of her bridal party—stand-ins for a queen's ladies in waiting.
Although Queen Victoria's once global empire has since retreated back into the rainy isles from whence it came, the sun never sets on some version of her voluminous white wedding dress, which can be found on brides from Brisbane to Bangkok, Venice to Vladivostok.
The meaning of marriage, and what we expect from it, has changed drastically in the past two hundred years. Though many people still associate the occasion with a woman in a white dress and a man in a tuxedo, there has been a crack in the façade of traditional gender roles among heterosexual couples, and an increased recognition of the legitimacy of non-heterosexual ones. No longer simply a business arrangement between families, the vast majority of people who want to marry intend to do so for love. More than that, we have come to expect our spouses to fill a myriad of roles once occupied by family members, friends, extramarital lovers, and even religion—providing us with fulfillment, companionship, financial partnership, intellectual stimulation, emotional support, spiritual inspiration, and passion, all rolled into one. It's a tall order, and a leap of faith that I for one have found moving to behold whenever I've attended a wedding, no matter what the bride wore.
Correction: The original version of this story stated that there are no weddings in the Bible. Rather, there are no wedding ceremonies.