Last spring, I served on the Chicago Literary Hall of Fame selection committee, the panel of writers tasked with choosing the new class of inductees for the organization, whose mission is to "preserve Chicago's great literary heritage."
First on the alphabetical list of finalists was an author I'd never heard of, the Black urban realist Frank London Brown. When I read nominator and short story writer Rachel Swearingen's recommendation, I was immediately intrigued by this remarkable man, a former union organizer, a Ph.D. candidate at the University of Chicago, and a journalist for such publications as Ebony and the Chicago Defender. His short stories—including "Night March," about a group of Southern Black men's efforts to prevent a lynching—appeared regularly in the Chicago Review and other small magazines. "More Man Than Myth," his seminal 1958 profile of the jazz pianist Thelonious Monk, in Downbeat is, as Michael D. Hill notes in Writers of the Black Chicago Renaissance, "filled with sharp insights and impeccable scene-setting" and "foreshadows the writer's bolder experiments with multi-voiced, single-subject narration."
Brown covered the Emmett Till murder trial in Mississippi, and was a witness of and participant in many of the crucial incidents of the Civil Rights movement of the 1950s and 1960s. His work, Swearingen wrote, was "arguably dangerous, as he earned an infamous 'index card' from the FBI in 1955," meaning that the agency perceived him as a threat to national security. Born in Kansas City in 1927, he died of leukemia in Chicago in 1962, at the age of 35. Over the course of his short life, he posed a threat to the myths of security held forth by the so-called American Dream, a false promise available only to an increasingly limited swath of Americans.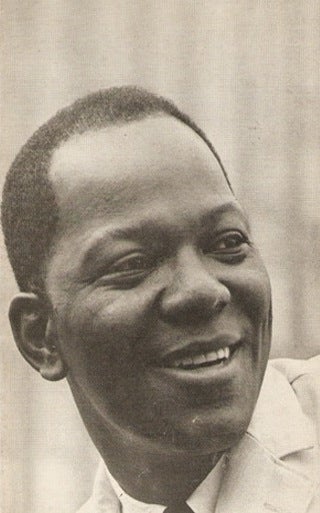 Trumbull Park, Brown's only novel published before his death, dramatizes the courage, dignity, and struggle of middle-class Black families integrating an all-white public housing project on Chicago's far South Side. Drawing on his family's own experience of abuse from both white residents and the police supposedly there to protect them, Brown presents a powerful story of white supremacist hatred characterized by riots, death threats, brickbats, and nightly window-breakings and bombings. In real life, the project was first integrated in 1953. Brown and his family lived there from 1954 to 1957, and it took until 1963 for Black families to be able to walk freely there without a police escort.
Although a recent episode of the HBO series Lovecraft Country made mention of the most intense period of rioting in Trumbull Park from 1953-1954, both the incident itself and the novel it inspired remain little known and under-discussed. Now, six decades later, Brown's candidacy for the Hall of Fame serves as a reminder that Trumbull Park remains as relevant as ever, underscoring the brutal legacy of segregation even in the North, which likes to think of itself as more evolved.
Occupying roughly 20 acres in a neighborhood known as South Deering, the Trumbull Park Homes were built in 1938 under FDR's Public Works Administration. The sturdy beige-and-brown-brick homes consist of low-density two-story rowhouses and three-story apartment buildings. As Arnold R. Hirsch writes in The Journal of American History, by the mid-1950s the 462-unit project housed more than 1,700 people. But deliberate as the project was in its design and layout, its integration occurred accidentally.
Betty Howard, "an exceptionally fair-skinned African American, had made the application for the unit at 10630 Bensley Avenue." Because she looked white, her paperwork was approved. As Hirsch observes: "Procedures heretofore effective in preventing the integration of the project had broken down." Out of an unspoken policy of maintaining segregation, the CHA headquarters staff "had usually been able to check the racial identity of its residents discreetly, and by locating their present residences. But Howard's current address was not associated with an identifiably Black neighborhood and Donald Howard's status as a veteran meant the waiver of the CHA's customary home visit."
Howard's neighbors only ascertained her family's racial identity after her husband and children, more visibly Black, all moved in without incident on July 30, 1953. By August 5, whites detected the inadvertent integration and reacted with stunning violence. That night, "nearly 50 white teenagers bombarded" the apartment with "racial epithets, stones, and paving bricks." By August 9, "crowds of between one and two thousand were congregating around the dwelling."
For context, this initial outburst occurred roughly one year before the Brown v. Board of Education decision, and as Hirsch explains, "[t]he result was nearly a decade of sporadic violence." The bombs used by the white mob were aerial fireworks that detonated in blinding white flashes and deafening thunder, sometimes more than 100 in a single night. No organized white opposition to the racist violence materialized, and even places that tacitly accepted integration were targeted: a white-owned liquor store that continued to serve Black customers got burnt to the ground less than a month after the Black family's arrival.
In Brown's novel Trumbull Park, a character named Arthur Davis stands in for the real-life Don Howard. He tells the novel's protagonist, a characted named Buggy Martin:
Don't call those bastards a crowd! I've told you over and over again! They're not a crowd. They're a mob! A crowd is somebody put next to somebody else. A goddamn crowd goes shopping, goes to Soldier's Field to a DuSable-Phillips football game—a bunch of people all at the same place at the same time. But this bunch of crazy son-of-a-bitches are together for just one thing—to get me! They hate me.
The speech reflects a real threat that residents of Trumbull Park felt. Black residents had to sign police logs to enter and exit their homes, and had to commute into and out of Trumbull Park in a paddy wagon, accompanied by armed officers. The police played up the indignity and humiliation by treating them like criminals.
When I drove by the park in late August of 2020, the site sat peaceful and quiet, sun-soaked in the summer heat, the titular park looking well maintained. Ironically, this park was named in 1917 in honor of Lyman Trumbull, Illinois Supreme Court Justice, U.S. Senator, and active supporter of the emancipation of enslaved people.
Following a brief nod to anti-Black violence so severe that it garnered national coverage in a 1954 issue of Time magazine, as well as a march on City Hall by the Chicago Negro Chamber of Commerce, the current City of Chicago listing for the project concludes cheerfully: "Today, the scene at Trumbull Park Homes is much more tranquil. The outdoor common area features beautifully landscape grounds, repaved walkways and grilling pits perfect for summer barbecues."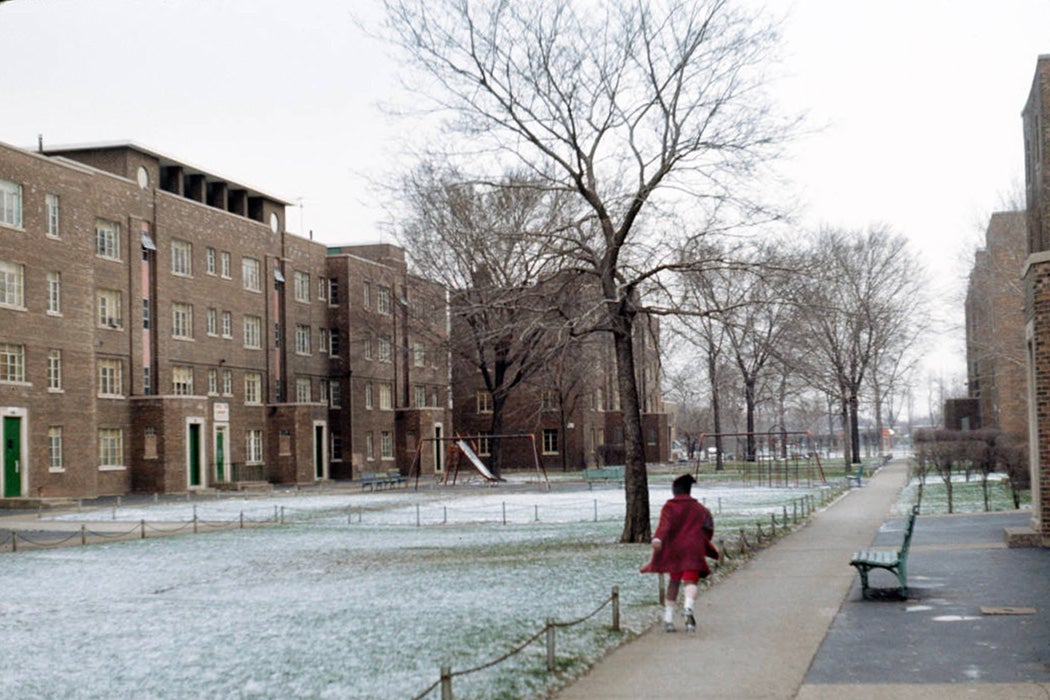 This glossing over of the site's convulsive history illustrates why Brown's Trumbull Park remains more vital than ever. Nonfiction accounts offer the facts and figures, names and dates, but Brown's deeply affecting, character-based, and voice-driven rendition achieves an unforgettable pathos and a poignancy that feels fresh many decades later. In "Bearing Witness in Black Chicago: A View of Selected Fiction by Richard Wright, Frank London Brown, and Ronald Fair," in the CLA Journal, Maryemma Graham writes that Brown's work "adds immeasurably to our vision of urban life and the consequences of urban development in a society bound by racial and class divisions." Like his fellow authors Richard Wright and Ronald Fair, Brown "presented a city, a microcosm for society, whose physical and social decadence and political corruption cried out for radical social change."
Brown provides his profoundly personal look at the incidents of Trumbull Park by giving readers the reluctant hero, everyman Buggy Martin. Buggy, his pregnant wife Helen, and their daughters, Louella and Diane, initially move to the project not out of any crusade, but simply to escape the odious and deadly Gardener Building, run by a heartless slumlord. The building, Buggy says, "was old—real old, like Mr. Gardener, and rotten. Rotten from the inside out. Rotten toilets. Rotten window sills. Rotten lamp cords. Rotten porches." Brown opens the novel with the heart-rending scene of an inquisitive toddler named Babydoll falling through a decaying railing to her death, prompting the Martins to seek less dangerous conditions.
As Graham notes, Brown knew whereof he wrote. His own family arrived in one of the waves of the Great Migration, between 1910 and 1940, when Chicago's Black population increased from 44,000 to 278,000—a growth of 530 percent. As Black people settled in Chicago, she writes, "they found their havens in overcrowded, overpriced, and deteriorating housing."
Gradually, over the course of the book's 432 pages, through conversations with his wife, his fellow Black families in Trumbull Park, his white colleague at his factory job, and the police officers who disdain their task of defending the integrators, Buggy becomes the leader of the resistance against white oppression.
At one of the frequent meetings of Black residents Brown depicts, Buggy notes:
The men looked even more stunned and stepped-on than the women; and it made me mad to see such despair. Yes, I guess that's what I saw—despair, sitting like a big fat man on top of all these people. I pulled myself away from them in my mind. I pulled and pulled until I was far enough away from them to be angry at them for feeling only sadness and not boiling, scalding anger.
By the novel's end, we see Buggy's anger put to concrete use when he decides to stage an impromptu walk-in.
Equally satisfying as Brown's depiction of this righteous anger is his portrayal of Black love and solidarity. As Buggy asks one Saturday evening, "We knew the bombs were going to start going off any minute […]. But do you know what we did that night?" Deftly, he answers in a single-sentence paragraph: "We partied!" adding that:
Terry and Norman thawed out, and those two went with Arthur and Kevin—in the squad car, of course—and got a few cans of Bud and a few Pepsi-Colas, and I went home after some records, and we put the kids in Carl's bedroom on his kids' beds, and had a real, live Saturday night party!
Often, books from the past, even the ones with the best intentions regarding social justice, fall short of what contemporary readers might hope. Feminist texts may be shot through with subtle racism, and anti-racist texts might be marbled with misogyny. But Brown's approach is refreshingly intersectional, emphasizing the centrality of the Black women of Trumbull Park. Buggy complains of the motley crew of fellow Black residents they have as allies, and how fractious even that group can be. Helen looks at him seriously and says, "It's too bad we can't pick the people to help us fight, Buggy. But it always seems that the most likely ones never come through, and the least likely ones always do. What'll we do—refuse help because it's not from the right people?"
So too does Brown depict the fraught entanglement of Black communities with law enforcement. When Buggy and his brother go to visit their dying father in County Hospital, he notices his sibling flexing and at first is perplexed, but:
Then I remembered. Ricky was a policeman, and a policeman has to let the world know he's around. Testing, testing, always testing—they all do it, the cops. Testing—got to make sure that people respect them, fear them. Ask a question, call somebody back, take an apple off the fruit stand. Free beer, free cigars, free Christmas presents from the merchants on the beat. I had seen all these things, but I hadn't thought much about them, until I saw Ricky the cop.
When I checked the book out from the library—only available in a hard-to-find 2005 university press edition—and read it last summer, I wondered: why aren't more people reading this book? Even though it was effusively praised at the time of its 1959 publication by Gwendolyn Brooks and Langston Hughes, why does it not have the classic status it so richly deserves? Why, when it comes to the question of the great Chicago novel do we tend to hear the same set of names—Bellow, Algren, Sinclair—over and over with no mention of Brown?
It sold 25,000 copies upon its initial publication, but in spite of positive attention in the Chicago Sunday Tribune and the Christian Century, as Hill observes, the novel "has received very little long-term notice" and that "whatever the reasons, any objective estimate must conclude that scholars, whether of regional or African American literature have neglected Trumbull Park." Critic Sterling Stuckey wrote that "along with Lorraine Hansberry's Raisin in the Sun and Ossie Davis' Purlie Victorious, [it] signaled the advent of a new and brilliant flowering of creative effort on the part of Negro writers." Yet in 1974 in The Dark and Feeling, Clarence Major declared that Brown "will remain a minor writer occupying a small place in the literary history of black Chicago."
As Mary Helen Washington writes in her introduction to the recent reprint, the book's minor status may be because Trumbull Park "defies categorization." She notes that "[d]espite the echoes we hear of Richard Wright in the story of class exploitation and urban racial violence, Trumbull Park represents a break with the tradition of social protest as defined by Wright in the 1930s and 1940s" because Brown neither "focuses on black victimization nor is he interested in appealing to or threatening a white audience." Rather, Buggy is written specifically to appeal to a Black audience, or, as Brown himself wrote, "If I could get the Negro reader to identify himself with this man, then, at the end of the novel, the reader would be sworn to courage—if the trick I tried to pull on Negro readers worked—"
Perhaps unsurprisingly, the Kirkus Review's take on Trumbull Park is condescending and dismissive: "Like many novels by Negro writers this is more a sociological study than an exercise of the novel's art—detailed, overly long, lacking in narrative strength—but effective on its own terms." This review is also incorrect, for Brown's novel is effective on every level: a dynamic protagonist, a compelling plot, killer dialogue, and timeless themes.
The few other mainstream reviews of the novel from 1959 bear that dismissiveness out as well. Thoroughly missing the point, the New York Times claims:
Mr. Brown does not deal with the inner psychology of the white people in Trumbull Park. Someday perhaps a writer will rise far enough above the battle to have the deepest sympathy for 'Buggy' Martin—and at the same time understand the misgivings, the fears and frustrations on the other side.
History—while often presented as fully knowable, monolithic, and objectively true—is full of subjectivity and gaps, lacunae both deliberate and careless. With this recent summer of racial reckoning whose echoes continue to rock America's understanding of who it has been and who it wants to be, Trumbull Park remains as resonant now as it was at the time of its publication. It is high time that it be given the attention it deserves, especially by white audiences who need to not be so easily comforted by the idea that they themselves are not the beneficiaries of structural inequalities whose roots form the very foundation of America. Frank London Brown is—I'm happy to report—poised to be inducted into the Chicago Literary Hall of Fame.
---
Support JSTOR Daily! Join our new membership program on Patreon today.