It's a disappointing aspect of history, but many great artists' groups were boys' clubs with closed ranks. Exclusive and possessive of their prestige, many male artists admitted women into their sphere only as models and muses. However, when women did manage to infiltrate the ranks, they did so outstandingly, often outshining their male contemporaries with their output. Such was the case with Russian artist and writer Elena Guro (1877–1913).
"Elena Guro, a talented poet and painter of the transitional period between Russian symbolism and futurism, has not attracted much attention," laments art critic Milica Banjanin. "Yet interest in Guro and the innovative and experimental period she lived in has grown in the past few years."
As proven in the near past with other ambitious young Russian women, a girl with a keen mind, a pen, and a paintbrush not only had to be talented, but clever and well-connected as well. Sometime between 1903 to 1905, Guro met her future husband, painter and composer Michael Vasilyevich Matyushin, while they were both novices studying under the Polish painter Jan Ciągliński. Before that, Guro received professional and social training at the Imperial Society for the Encouragement of the Arts in St. Petersburg, which admitted female students to its classrooms.
With refined skills in hand and an appropriate (and lucky) support system behind her, Guro began freelancing and accepting commissions. One of her most glamorous and most notable assignments was illustrating a book of fairy tales written by the French writer George Sand. This was a prestigious gig, as French literature was considered the pinnacle of high culture in Russia. Guro also contributed pieces to the two-issue journal A Trap for Judges which, due to financial difficulties, went under quickly. However, like other short-lived serial publications of the past, it didn't die without leaving a legacy. The fact that it was published at all was considered a major win for the Russian Futurist group.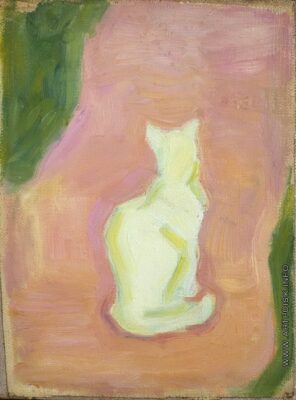 Russian Futurism, an art movement that romanticized industry and modernization, sprouted from principles laid out in manifestos by Italians Filippo Marinetti iand Antonio Sant'Elia. Futurists declared outright war on nostalgia and the artistic and cultural traditions of the past. Guro was firmly perched on Russian Futurism's even more abstract branch, Cubo-Futurism, and was one of the very few women associated with the movement.
"Contradictions and inconsistencies can be observed in the poetic practice of the participants, too," writes Russian history scholar Vladimir Markov, commenting on Guro's social-artistic circle of Futurists, in which she was very much a token minority. "Within the same group," he notes, "there seem to coexist the urbanist Majakovskij and the passéist-ruralist Xlebnikov, the iconoclast Kručënyx and the gentle introvert Guró, the neoprimitivist Kamenskij and the highly-refined, sophisticated Livšic."
Guro published several works of self-illustrated prose and poetry before her death of tuberculosis in 1913. Painter. Poet. Philosopher. Guro did it all. She can be best remembered and appreciated for being a versatile, multi-talented creator who produced work with an authentic, individual style. This is especially relevant in an age in which the livelihoods of creatives are coming under threat.
Editor's Note: This article was amended to correct a typographical error in the final paragraph.
---
Support JSTOR Daily! Join our new membership program on Patreon today.