"The words 'conjugal visit' seem to have a dirty ring to them for a lot of people," a man named John Stefanisko wrote for The Bridge, a quarterly at the Connecticut Correctional Institution at Somers, in December 1963. This observation marked the beginning of a long campaign—far longer, perhaps, than the men at Somers could have anticipated—for conjugal visits in the state of Connecticut, a policy that would grant many incarcerated men the privilege of having sex with their wives. Conjugal visits, the editors of The Bridge wrote, are "a controversial issue, now quite in the spotlight," thanks to their implementation at Parchman Farm in Mississippi in 1965. But the urgency of the mens' plea, as chronicled in The Bridge and the Somers Weekly Scene, gives voice to the depth of their deprivation. "Perhaps we're whistling in the wind," they wrote, "but if the truth hits home to only a few, we'll be satisfied."
The men at Somers wrote of conjugal visits as something new, but in fact, Parchman had adopted some version of the practice as early as 1918. Parchman, then a lucrative penal plantation, sought to incentivize Black prisoners, who picked and hoed cotton under the surveillance of armed white guards, by allowing them to bring women into their camp. The visits were unofficial, and stories from the decades that followed are varied, ranging from trysts between married couples to tales of sex workers, bussed in on weekends. The men built structures for these visits out of scrap lumber painted red, and the term "red houses" remained in use long after the original structures were gone. The policy was mostly limited to Black prisoners because white administrators believed that Black men had stronger sexual urges then white men, and could be made more pliable when those urges were satisfied.
This history set a precedent for conjugal visits as a policy of social control, shaped by prevailing ideas about race, sexual orientation, and gender. Prisoners embraced conjugal visits, and sometimes, the political reasonings behind them, but the writings of the men at Somers suggest a greater longing. Their desire for intimacy, privacy and, most basic of all, touch, reveals the profound lack of human contact in prison, including but also greater than sex itself.
Scholar Elizabeth Harvey paraphrases Aristotle, who described the flesh as the "medium of the tangible," establishing one's "sentient border with the world." Touch is unique among the senses in that it is "dispersed throughout the body" and allows us to experience many sensations at once. Through touch we understand that we are alive. To touch an object is to know that we are separate from that object, but in touching another person, we are able to "form and express bonds" with one another. In this context, Harvey cites the French philosopher Maurice Merleau-Ponty, who described all touch as an exchange. "To touch is also always to be touched," she writes.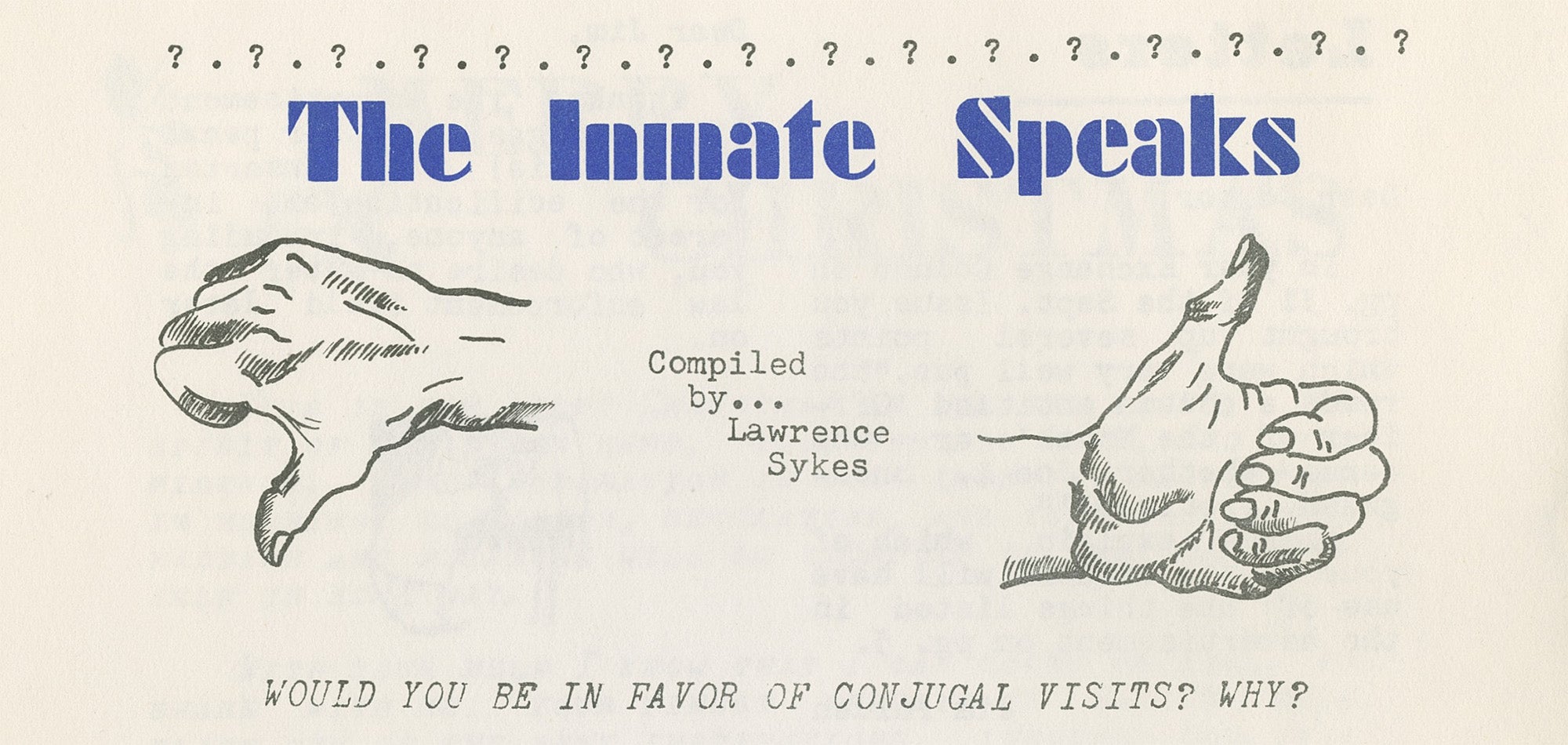 When Parchman officially sanctioned conjugal visits in 1965 after the policy was unofficially in place for years, administrators saw it as an incentive for obedience, but also a solution to what was sometimes called the "Sex Problem," a euphemism for prison rape. Criminologists of the era viewed rape in prison as a symptom of the larger "problem of homosexuality," arguing that the physical deprivations of prison turned men into sexual deviants—i.e., men who wanted to have sex with other men. In this context, conjugal visits were meant to remind men of their natural roles, not merely as practitioners of "normal sexuality," but as husbands. (Framing prison rape as a problem of 'homosexuals' was commonplace until Wilbert Rideau's Angolite exposé Prison: The Sexual Jungle revealed the predation for what it was in 1979.)
Officials at Parchman, the sociologist Columbus B. Hopper wrote in 1962, "consistently praise the conjugal visit as a highly important factor in reducing homosexuality, boosting inmate morale, and… comprising an important factor in preserving marriages." Thus making the visits, by definition, conjugal, a word so widely associated with sex and prison that one can forget it simply refers to marriage. Men—and at the time, conjugal visits were only available to men—had to be legally married to be eligible for the program.
But for the men at Somers, the best argument for conjugal visitation was obvious—with one telling detail. The privacy afforded by the red houses at Parchman, Richard Brisson wrote "preserve some dignity to the affair," creating "a feeling of being a part of a regular community rather than … participating in something that could be made to appear unclean." For lovers secluded in bedrooms, "[t]here is no one about to mock them or to embarrass them," he wrote. This observation suggests the ubiquity of surveillance in prison, as well as its character.
Carceral institutions are intended to operate at a bureaucratic remove; prisoners are referred to by number and were counted as "bodies." Guards must act as ambivalent custodians of these bodies, even when the nature of their job can be quite intimate. Prisoners are routinely strip-searched and frisked; they must ask permission to exercise any movement, to perform any bodily function. This is as true today as it was in Somers, where men frequently complained that they were treated like children. "You are constantly supervised, just as if you were a one-year-old child," Ray Bosworth wrote in 1970.
But guards are not parents, and the tension between dutiful ambivalence and intimate supervision often manifests as disgust. On a recent visit to Bedford Hills Correctional Facility, a maximum-security women's prison in upstate New York, prisoners complained of being ridiculed during strip searches, and hearing guards discussing their bodies in the corridors.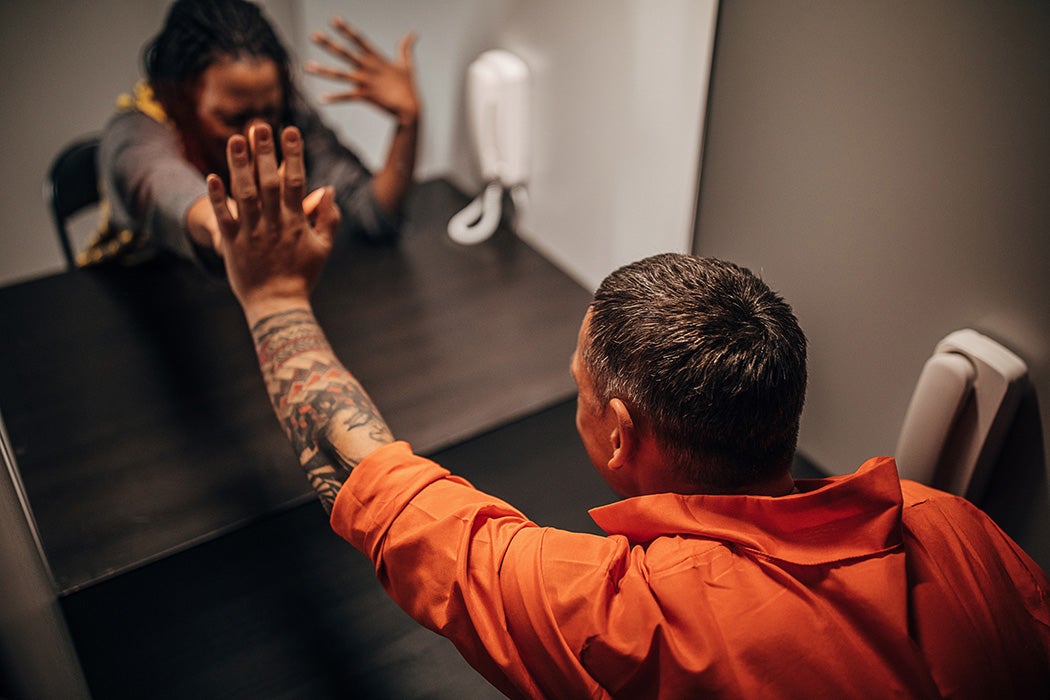 This attitude extends to rules regulating touch between prisoners and visitors. Writing about San Quentin State Prison in California in the early 2000s, the ethnographer Megan L. Comfort described a common hierarchy of visits, each with its own allowable "degree of bodily contact." Death Row cage visits allowed for hugs in greeting and parting, while a contact visit allowed for a hug and a kiss. The nature of the kiss, however, was subject to the discretion of individual guards. "We are allowed to kiss members of our families, hello and goodbye, but the amount of affection we may show is limited by the guard," James Abney wrote for the Somers Weekly Scene in 1971.  "If he feels, for instance that a man is kissing his wife too much or too passionately, then he may be reprimanded for it or the visit may be ended on the spot."
When Somers held its first "Operation Dialogue," a "mediated discussion" among prisoners and staff in May 1971, conjugal visits were a primary concern. By then, California (under Governor Ronald Reagan) had embraced the policy—why hadn't Connecticut? Administrators argued that furloughs, the practice of allowing prisoners to go home for up to several days, were a preferable alternative. This certainly would seem to be the case. In August 1971, the Scene quoted Connecticut Correction Commissioner John R. Manson, who criticized the skeezy, "tar-paper shacks" at Parchman, concluding that furloughs were "a less artificial way for inmates to maintain ties with their families." But to be eligible for furloughs, men were required to be within three or four months of completing their sentence. In the wake of George H.W. Bush's infamous "Willie Horton" campaign ad in 1988, a racially-charged ad meant to stoke fear and anti-Black prejudice in which a violent attack was blamed on Liberal soft-on-crime policies (specifically scapegoating Michael Dukakis for a crime committed on a prison furlough that predated his tenure as governor), prison furloughs were mostly abolished. They remain rare today, still looming in the shadow of the Horton ad.
Conjugal visits are considered a rehabilitative program because, as Abney wrote, it is in "society's best interest to make sure that [a prisoner's] family remains intact for him to return to." Unspoken is the disregard for people serving long sentences, or life, making conjugal visits unavailable to those who might need them the most.
The campaign for conjugal visits continued throughout the 1970s. Then, in 1980, in a sudden and "major policy reversal," the state of Connecticut announced that it would instate a "conjugal and family visit" program at several prisons, including Somers. Subsequent issues of the Scene outline the myriad rules for application, noting that applicants could be denied for a variety of reasons at the discretion of prison administrators.
The earliest conjugal visits at Somers lasted overnight but were less than 24 hours in total. Men could have multiple visitors, as long as they were members of his immediate family. This change signaled a new emphasis on domesticity over sex. Visits took place in trailers equipped with kitchens, where families cooked their own meals. Describing a similar set-up at San Quentin more than two decades later, Comfort wrote that the trailers were meant to encourage "people to simulate an ordinary living situation rather than fixate on a hurried physical congress."
By the early 1990s, conjugal visitation, in some form, was official policy in 17 states. But a massive ideological shift in the way society viewed incarcerated people was already underway. In a seminal 1974 study called "What Works?", sociologist Robert Martinson concluded that rehabilitation programs in prison "had no appreciable effect on recidivism." Thinkers on the left saw this as an argument for decarceration—perhaps these programs were ineffective because of the nature of prison itself. Thinkers on the right, and society more broadly, took a different view. As (ironically) the Washington Post observed, the findings were presented in "lengthy stories appearing in major newspapers, news magazines and journals, often under the headline, 'Nothing Works!'"
Martinson's work gave an air of scientific legitimacy to the growing "tough-on-crime" movement, but the former Freedom Rider, who once spent 40 days at Parchman, spawned punitive policies he couldn't have predicted. In 1979, Martinson officially recanted his position. He died by suicide the following year.
In Mistretta v. United States (1989), the court ruled that a person's demonstrated capacity for rehabilitation should not be a factor in federal sentencing guidelines because, they wrote, studies had proved that rehabilitation was "an unattainable goal for most cases." It effectively enshrined "nothing works" into law.
"Nothing works" gave rise to harsher sentencing, and more punitive policies in prisons themselves. In 1996, the state of California drastically reduced its conjugal visitation program. At San Quentin, this meant conjugal visits would no longer be available for people serving life sentences. To have benefitted from the program, and then have it taken away, was a particular blow to prisoners and partners alike. One woman told Comfort that she was in "mourning," saying: "To me, I felt that it was like a death."
We don't know how the men at Somers might have felt about this new era, or the heyday of conjugal visits that came before it. There are no issues of the Weekly Scene available after 1981 in the American Prison Newspapers collection, which is just after the visits began. But their writing, particularly their poetry, offers some insight into the deprivation that spurred their request. In 1968, James N. Teel writes, "Tell me please, do you ever cry, / have you ever tried to live while your insides die?" While Frank Guiso, in 1970, said his existence was only an "illusion." "I love and I don't, / I hate and I don't / I sing and I don't / I live and I don't," he writes. But for others, disillusionment and loneliness take a specific shape.
"I wish you could always be close to me," Luis A. Perez wrote in a poem called "The Wait" 1974:
I will hold your strong hand in my hand,
As I stare in your eyes across the table.
Trying to think of the best things to say,
I then notice how I will not be able.

I will long for your tender embraces,
For your long and most desirable kiss.
As I sleep cold for warmth of your body,
You my love, are the one I will miss…
Today, only four states—California, Connecticut, Washington and New York—allow conjugal visits. (Mississippi, where Parchman is located, ended conjugal visitation in 2014.) Some argue that Connecticut's Extended Family Visit (EFV) program, as it is now called, doesn't actually count, because it requires a prisoner's child to be there along with another adult. There is also some suggestion that Connecticut's program, while still officially on the books, has not been operational for some time.
The COVID-19 pandemic gave further cause to limit contact between prisoners and visitors, engendering changes that don't appear to be going away anytime soon.
Somers was reorganized as a medium-security facility and renamed the Osborn Correctional Institution in 1994. A recent notice on the facility's visitation website reads: "​​Masks must be worn at all times. A brief embrace will be permitted at the end of the visit."
---
Support JSTOR Daily! Join our new membership program on Patreon today.