Louisiana's Legacy
Juicy red crawfish. Jazzy second line dancing. Thick and warm beignets with the perfect cafe au lait. These are what usually come to mind when people think of Louisiana. This Southern state has built quite a reputation for itself with its French, Spanish, and African-influenced culture and cuisine, alongside its promise (and unofficial state motto) of laissez les bon temps rouler. While Louisiana generates a lot of attention for events such as Mardi Gras and Essence Festival, it is also known for being 'the world's prison capital.' According to a 2021 report from the Prison Policy Initiative, the United States incarcerates 664 individuals per 100,000. Louisiana, on the other hand, far surpasses this–incarcerating 1,094 people per 100,000. Additionally, Louisiana is home to one of the most dangerous prisons in the United States: the Louisiana State Penitentiary, sometimes referred to as Angola due to its location in Angola, Louisiana. Angola is the largest maximum security prison in the United States, and is known as both "The Bloodiest Prison in the South" and the "Alcatraz of the South" due to the facility's ties to enslavement and its brutal conditions.
However, there is another prison in Louisiana that is making itself known for a different reason: its commitment to celebrating and uplifting Black History. The editors of Chainlink Chronicle, a prison newspaper published in the Washington Correctional Institute in Angie, Louisiana, have been publishing special Black History Month features for over 20 years. From hosting essay and art contests to putting on Black History programs to highlight important people and events, incarcerated people at the facility have remained dedicated to highlighting the importance of Black History to people within the prison and to those beyond its bars.
Origins of Black History Month
This issue of Chainlink Chronicle dives into the history of Black History Month in a piece titled "The African American Griot" by Dwayne Stewart. Born in Canton, Virginia as the son of a former slave, Dr. Carter G. Woodson was a pioneer in Black Studies and launched Negro History Week in 1926. He dedicated his life to "observing and studying the educational system of many cultures" and believed that African American contributions were overlooked, ignored, and suppressed. After being barred from attending American Historical Association conferences, Woodson found it necessary to found the Association for the Study of Negro Life and History in 1915. Just a year later, Woodson singlehandedly launched the Journal of Negro History , which is now known as the Journal of African American History. The first issue of the journal features a piece about African proverbs and a book review of Woodson's The Education of the Negro Prior to 1861.

Launched in February to coincide with the birthdays of Frederick Douglass and Abraham Lincoln, Negro History Week became Black History Month in 1976, when the Association for the Study of African American History (formerly known as the Association for the Study of Negro Life and History) marked the 50th anniversary of Negro History Week.
The issue also includes a piece titled "Reflections in Afro-American Culture," which was the winning essay of the Black History essay contest. Written by Lon Washington, it names well-known civil rights leaders such as Dr. Martin Luther King Jr., Malcolm X, and Medgar Evers. Washington's winning essay also names leaders who may not be as well known such as Septima Clark. Considered the "Mother of the Movement," Clark led workshops that helped African Americans learn basic literacy skills as well as how to fill out voter registration forms. She was a pioneer in grassroots citizenship education and believed that literacy and political empowerment were inextricably linked. Rosa Parks had attended one of Clark's workshops just months before launching the Montgomery Bus Boycotts. Clark's contributions to the Civil Right Movement demonstrate that "select[ing] one person or even a group of people as being pivotal in the shaping our Afro-American culture as we know it today is risky. There were too many people who were important."
Black History in Louisiana
African American people in Louisiana are an integral component of the state's culture and history. For example, Pinkie Gordon Lane was the state's first Black Poet Laureate and the first Black woman to receive a doctorate from Louisiana State University in 1956. She was also the first woman to serve as Chair for the English Department at Southern University, the largest Historically Black College/University (HBCU) in the state. Her poems "When You Read This Poem" and "Love Poem" demonstrate her propensity to weave the natural environment into her works. Two other important people are Reverend T.J. Jemison and Willis Reed, who led the 1953 Baton Rouge Bus Boycott. Eighty percent of bus riders were Black and Reed knew the boycott would send a strong economic message. The protest began June 20, 1953 with volunteer drivers such as Almenia Freeman and Dupuy Anderson offering to give free rides to Black residents at the time. After eight days, the Baton Rouge City Council agreed to a compromise: all seats would be open except the front two rows and the back two rows, which would be for White and Black riders, respectively. The bus boycott in Baton Rouge inspired and served as a model for the Montgomery, Alabama Bus Boycott of 1955 that was led by Reverend Martin Luther King Jr..
Chainlink Chronicle has a special issue highlighting more Black History leaders and events throughout the Louisiana parishes. Listed below is a list of people and events of Louisiana Black History.
Alexander Pierre "A.P." Tureaud Sr.
Tureaud was a civil rights attorney born on February 26, 1899 and raised in the New Orleans' Seventh Ward just three years after the famous Supreme Court decision, Plessy v. Ferguson. Tureaud's parents were descendants of free people of color, a unique community of people in Louisiana who were born free or escaped enslavement before it was abolished in 1865. As a teenager, Tureaud moved to Chicago as a part of the Great Migration. He was then later introduced to the National Association for the Advancement of Colored People (NAACP) in New York. After moving to Washington, D.C. when he was 19, he became a junior clerk at the United States Department of Justice library. In 1921, he enrolled at Howard University and met Black leaders such as W.E.B. DuBois and graduated as the first member of his family to do so.
As a young boy, A.P. Tureaud lived under Jim Crow laws and felt compelled to return to Louisiana to help "right the wrongs" of discrimination, segregation, and violence. After being admitted to the Louisiana bar in 1927, Tureaud was one of only four Black lawyers in the state. From the early 1940s through the 1960s, he handled nearly all the desegregation and civil rights cases in the state and fought for equal teacher pay for Black teachers throughout the state. He also led the legal team for the New Orleans chapter of the NAACP and worked alongside Thurgood Marshall and Robert Carter to file the lawsuit that successfully ended Jim Crow segregation in New Orleans. As a result, the Orleans Parish School System was forced to desegregate. He also filed several lawsuits against Louisiana State University (LSU), the Medical Center, and the LSU Law School to challenge segregation policies. One of the lawsuits was against the undergraduate division of the university when Turead's son, A.P. Tureaud Jr. faced intense opposition and hostility from members of the campus community.
Tureaud Jr. was 17 at the time, and professors questioned whether they could touch his papers. His peers would move their chairs away from him as much as they could and throw roadkill in front of his door in the residence hall. The campus newspaper The Daily Reveille published hateful and degrading letters about him from former students, and even the University's president at the time, Troy H. Middleton fought as hard as he could to keep Tureaud Jr. out of the library—which no longer bears Troy H. Middleton's name as of  June 2020.
After spending only 55 days on the campus, the lawsuit ended in a mistrial and Tureaud returned to his hometown to enroll at Xavier University, the only historically Black, Catholic university in the country. Today, there is a hall named after A.P. Tureaud Sr. on LSU's campus.
The Louisiana Slave Revolt of 1811
The Louisiana Slave Revolt of 1811 (also known as the German Coast Uprising) was the largest slave insurrection in the history of the United States. The revolt was led by Charles Deslondes, an enslaved person who had been brought from Haiti to Louisiana. Deslondes was forced to work on the sugarcane plantations in St. John the Baptist parish. Inspired by the Haitians' defeat of Napoleon in 1804. On January 8, 1811, Charles Deslondes and over 500 other enslaved people marched towards New Orleans carrying cane knives, hoes, and clubs chanting "On to New Orleans" and "Freedom or Death." Their purpose: to establish an independent Black republic in New Orleans.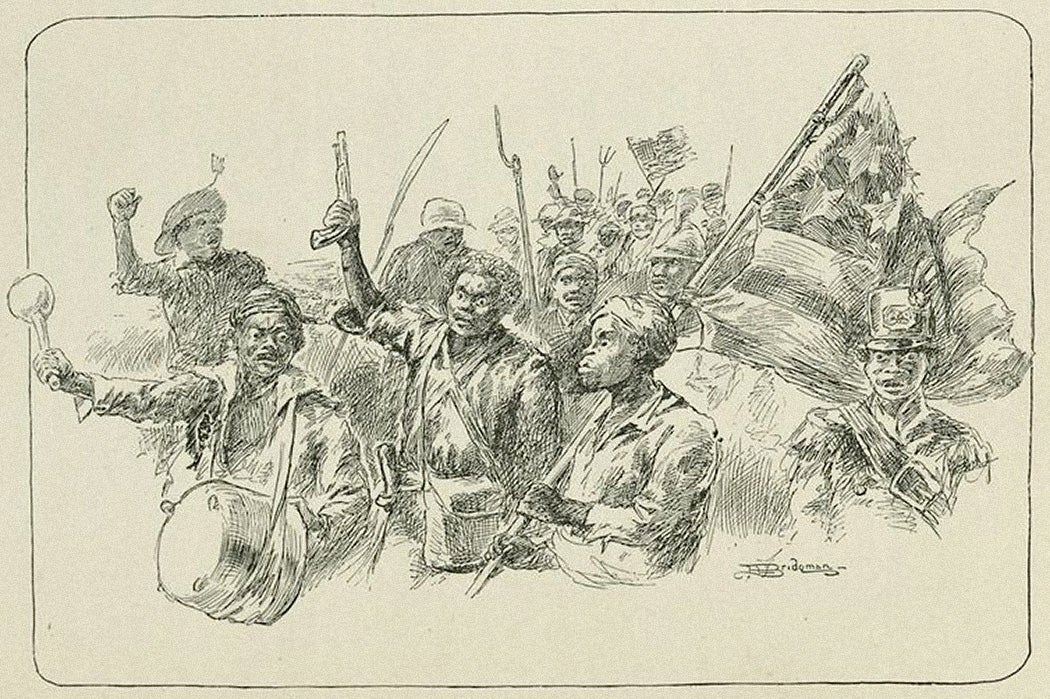 The march began in LaPlace, Louisiana on Col. Manuel Andry's plantation and members of the group killed two plantation owners and torched several buildings on the way to New Orleans. For two days, the group continued their march towards New Orleans and gained new participants along the way. On January 11, the revolt ended, when several of the revolutionaries were beheaded and placed on poles along the levee for 60 miles as a warning sign to other enslaved people. Those who weren't beheaded were captured, placed on trail, and executed later. Although U.S. federal troops and the slave owners' militia kept the revolt from being successful, it stimulated more revolts in the coming years.
Dorothy Mae Taylor
Known as "The First Lady of 1300 Perdido Street" for her service in New Orleans City Hall, Dorothy Mae Taylor began her social activist career in the late 1940s. She led a fight against the Orleans Parish School board demanding that supplies and funding for Black schools be on par with those for White schools. She helped desegregate both the New Orleans public schools and the New Orleans Recreation Department. Along with civil rights, Brown also fought for prison reform. She visited every penal institution in the state and authorized legislation to create a joint committee to investigate conditions at Angola.
Taylor's activism continued in 1971 when she became the first African American woman to be elected to and serve in the Louisiana House of Representatives. In this role she represented the first and second wards of New Orleans, where a majority of the residents lived below the poverty line. Furthermore, she was a strong advocate for women's participation in politics and wrote a speech titled, "Women, Your Power, Your Vote, 1920 to the Present." In her speech, she praised pioneering suffragettes and actively encouraged women to campaign for office, support other women, and support candidates who focused on women's issues.
She made history again in 1986 when she became the first woman elected to New Orleans' City Council. During her tenure, she became particularly famous for her impact on Mardi Gras: in 1991, she proposed an ordinance to prohibit discrimination based on race, religion, and gender in Mardi Gras krewes. During the time, Mardi Gras was run by four exclusive associations: Momus, Comus, Proteus and Rex. White residents, at the time, sawTaylor as the "vixen who tried to destroy Mardi Gras." As a result of the ordinance, Momus, Comus, and Proteus stopped parading as a demonstration of their refusal to follow the law. On the other hand, Rex integrated its membership and continued parading. Currently, neither the Krewe of Comus nor the Krewe of Momus participate in parading. However, Proteus resumed its parade in 2000.
Ruby Bridges
Ruby Bridges was the first African American student to integrate an elementary school in the South. Bridges was born on September 8, 1954—the same year of the US Supreme Court's ruling in Brown v. the Board of Education. At six years old, Ruby Bridges began attending William Frantz Elementary School in New Orleans, LA. Her parents had different opinions about if Ruby should attend or not. Her father was against it, fearing for her safety. Her mother, on the other hand, wanted Ruby to have opportunities that had been previously denied. The school itself prolonged Ruby's admittance. Nonetheless, on November 14, 1960, Ruby began attending that all-White school, and was escorted by federal marshals every day throughout her first year.
The morning of Ruby's first day was eventful and chaotic: When recalling her first trip to the school, Bridges said the following: "I saw barricades and police officers and just people everywhere. And when I saw all of that, I immediately thought it was Mardi Gras. I had no idea that they were there to keep me out of the school." Once she and her mother made it inside the school, they spent the whole day in the principal's office. White parents came to the school and took their children home, angered by Ruby's presence in the school. And Barbara Henry, a Boston-native, was the only teacher in the building willing to teach the young girl. As a result, Ruby was in a class by herself when she came to school the next day.
While Ruby Bridges' was met with hostile mobs of angry White parents and students, there were also parents who were trying to cross the lines to bring their children to school with her. However, it was only five or six kids, and the principal would hide them so they'd never see Bridges. Ruby mentioned the children to her teacher, Mrs. Henry. As a result, Mrs. Henry went to the principal and threatened to make a report to the superintendent if the children weren't allowed to come together. By the end of the year, Mrs. Henry was finally allowed to take Ruby to the other classroom the rest of the children were in.
Despite the isolation and harassment she experienced, Ruby Bridges said that it wasn't until she saw a woman holding a Black babydoll in a coffin that she became frightened. She became close with her teacher and Robert Coles, a renowned child psychologist who studied children's reactions to extreme stress or crisis. The Marshals who escorted Ruby noted that she never whimpered or cried. In fact, her bravery inspired the Normal Rockwell painting, "The Problem We All Live With." Created years after her entrance to William Frantz, the painting depicts her usual trek into the school: she's surrounded by U.S. marshals, and the wall has racist slurs painted on with the remnants of a thrown tomato sliding down. By the end of her second year, the marshals are gone. Ruby walked to school on her own and she was in a classroom with other students.
In 1993, she began working as a parent liaison at Frantz, which had become an all-Black school. Her memoir, Through My Eyes was released in 1999. Today, Ruby Bridges resides in New Orleans and is chair of the Ruby Bridges Foundation, an organization she founded to combat racism and other forms of bullying through community service.
---
Support JSTOR Daily! Join our new membership program on Patreon today.