In the early 20th century, Violetta White Delafield began to study mushrooms. The American botanist and mycologist submitted over 600 fungal specimens to the New York Botanical Garden, which she was a member of. As part of her fieldwork, she also produced gorgeous drawings and watercolors of mushrooms she encountered in Pennsylvania, Connecticut, and at Montgomery Place, her country estate in New York, which is now part of Bard College. We spoke with curator Amy Herman about Violetta White Delafield and her drawings. The physical collection of drawings is held by Bard. You can browse the collection on JSTOR. SERIOUSLY, the drawings are mesmerizing and in these trying times, we daresay, healing. Check out all the drawings now.
Who was Violetta White Delafield? Why are her illustrations important?
Violetta White Delafield (1875-1949) was an American botanist and mycologist. She was born Susan Elizabeth White in Florence, Italy, to expatriates Louisa Lawrence Wetmore and John Jay White. Violetta spent most of her childhood in the south of France and was fluent in French, Italian, and German. She and her family moved back to the United States around 1890 and lived in New York City. Within a few years of their arrival, Violetta began her study of botany, inspired perhaps by her family's trips to their summer home in Litchfield, Connecticut.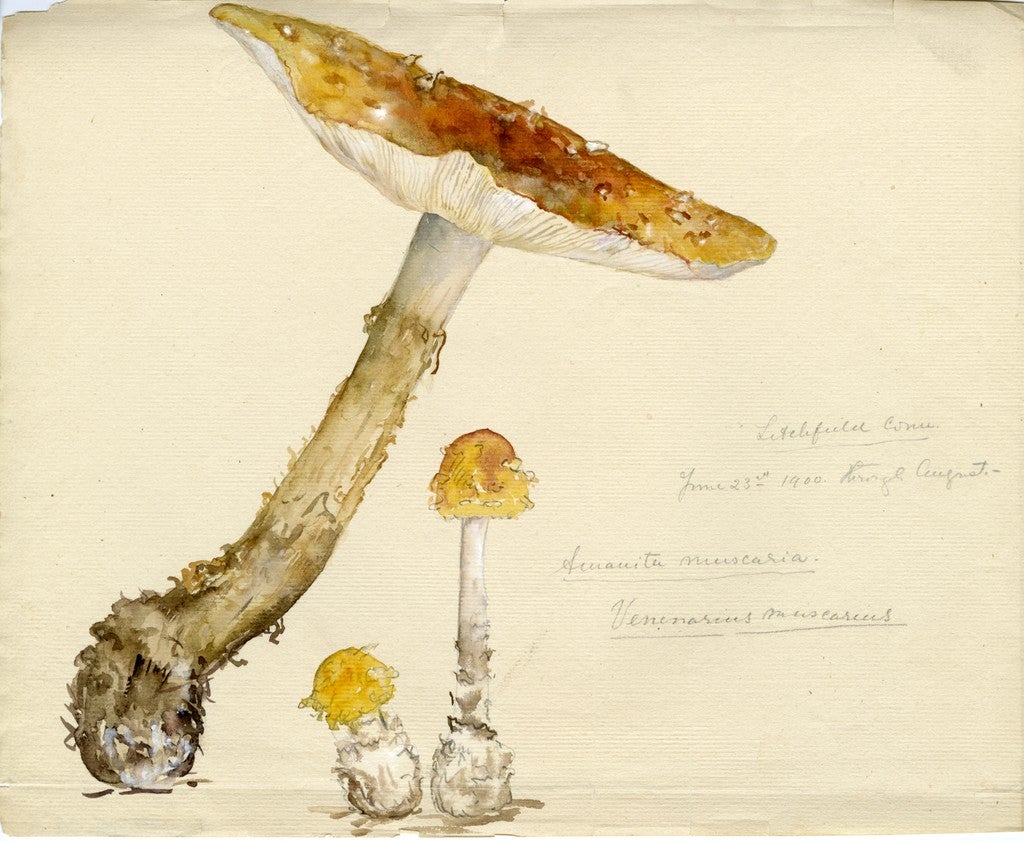 A sketchbook dated 1899 contains Violetta's earliest studies of plants and their cellular structure. Violetta became a registered investigator at the New York Botanical Garden in 1901, and it was during this period that she began her research on fungi. The seriousness of her studies brought her under the mentorship of Lucien Underwood of the New York Botanical Garden and Charles H. Peck of the New York State Museum. Violetta also corresponded and exchanged specimens with William Alphonso Murrill, head of mycological research at the NYBG and founder of the journal Mycologia. The late nineteenth and early twentieth centuries witnessed a surge of women entering into the botanical field in the United States. It wasn't uncommon for women to provide fieldwork such as specimens, sketches, and notes for male mentors in the scientific establishment.
Between 1901 and 1902, Violetta published three scientific works on fungi that appeared in the Bulletin of the Torrey Botanical Club. In these papers, she explores the families of Tylostomaceae and Nidulariaceae in North America, and presents a preliminary catalog of the fungi on Mount Desert Island, Maine, which was intended to supplement Edward Rand's Flora of Mount Desert Island. Around the same time, she began work on a treatise called the Geasters of North America, an ambitious project on the mushroom species more commonly known as earthstars. Unfortunately it was never published.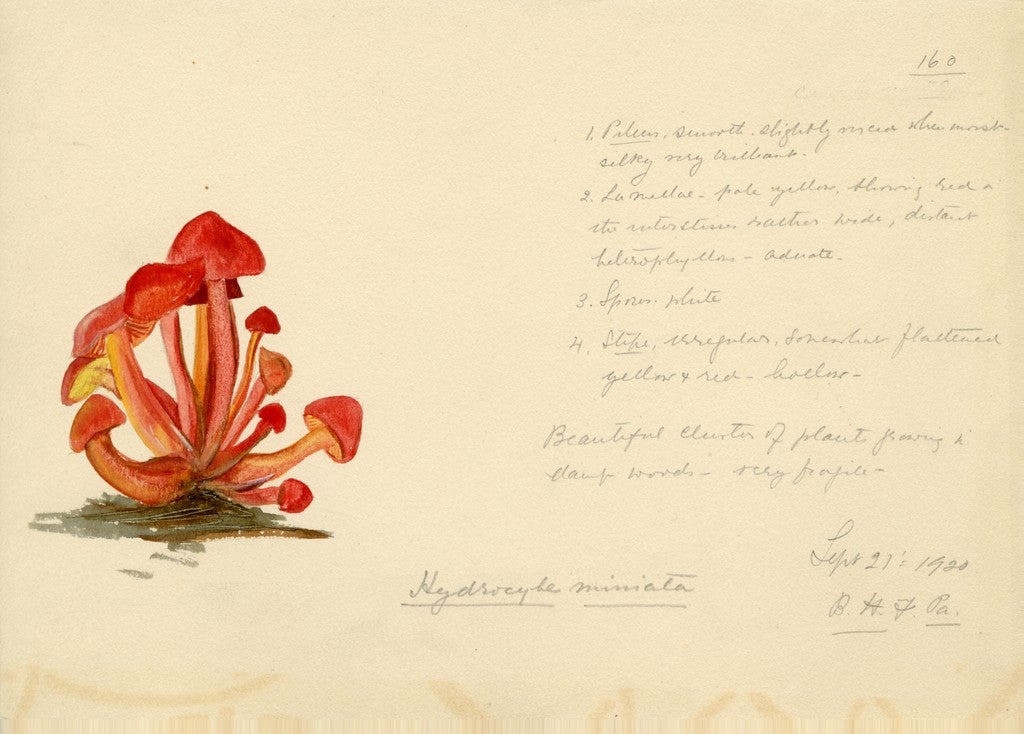 Violetta submitted over 600 fungal specimens to the New York Botanical Garden (now the William and Lynda Steele Herbarium) and the New York State Museum. Many of these specimens were submitted prior to Violetta's marriage to John Ross Delafield and were documented under her maiden name, White. These specimens, now over 100 years old, are currently held in the Fungal Herbarium at the New York Botanical Garden and still available for study. The specimens are uniquely significant when accompanied by her drawings, especially for the study of type specimens—the actual specimen on which a species name is based.
Did she actually search for and find mushrooms in the field?
Yes, she did. Each of the drawings includes the location and date of the collected fungus. Many of the specimens that Violetta documented were found near her family's homes in Litchfield, Connecticut, the Catskills, and Buck Hills Falls, Pennsylvania. She later documented fungi found on the grounds of Montgomery Place, in Annandale-on-Hudson, New York, where she lived with her husband, John Ross Delafield, and their children from 1922 until her death in 1949.
Why did she create these illustrations? Do you know why she used watercolor as a medium?
Violetta's early scientific writing on mushrooms leads us to believe that Violetta wanted to make serious contributions to the field of mycology. We don't know exactly why she created these illustrations, but clearly part of her intent was to aid in the identification of each species by capturing its unique characteristics. We do know that when Violetta submitted her fungal specimens to the herbaria of the New York Botanical Garden and New York State Museum, she would sometimes also include a drawing, so they were very much part of the contribution she was making to scientific study.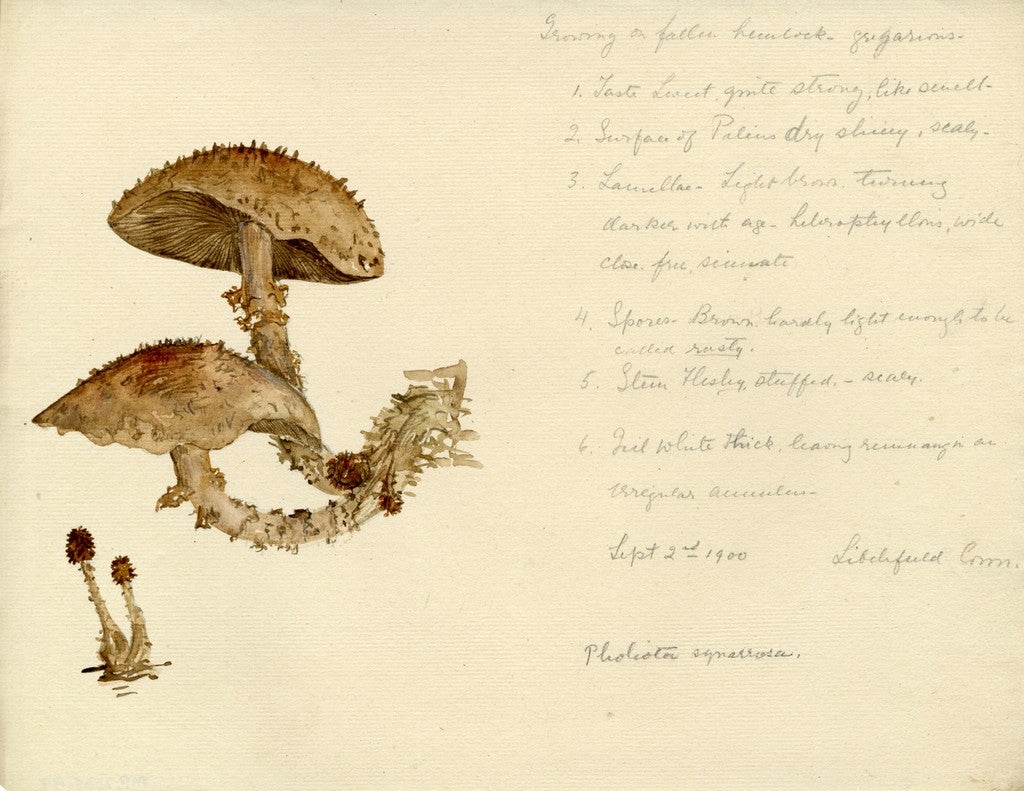 Although we can't know her exact process, it seems likely that Violetta made the drawings on location prior to collecting the specimens. Fungal specimens often change color or lose scales and markings quickly after collection, so it would have been of utmost importance to capture the form and color accurately before removing them from their natural environment.
Watercolor was probably chosen for both its practicality (it dries quickly) and its luminosity, which so accurately captures the translucent quality of mushrooms. Botanical illustration often combines watercolor with pencil or ink, and this is the case with many of Violetta's illustrations as well, as visible pencil lines can often be seen outlining the basic shape of the mushroom. A few drawings in the collection are done exclusively with pen and ink, using a stippling technique, a method of drawing that uses small dots to give the appearance of shading.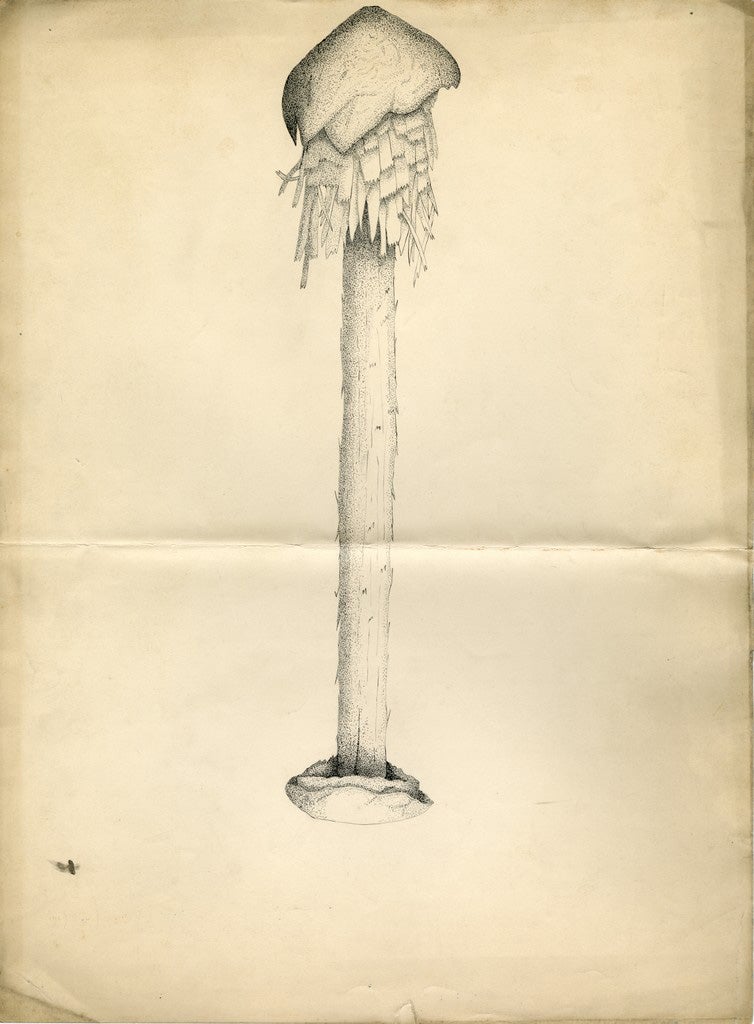 What do these illustrations reveal about mushrooms and/or botany that remains relevant today?
After her death in 1949, William J. Robbins, director of the New York Botanical Garden from 1937 to 1958, described Violetta's contributions to the field of botany in a letter written to her husband, John Ross Delafield:
"Mrs. Delafield's activities in the New York Botanical Garden are especially noteworthy because they demonstrate how an amateur with the interest and ability can pursue research in science and make substantial contributions. Interest in accomplishing real scientific work by amateurs has long been a characteristic of the English. It has, unfortunately, been much less common in this country."
Violetta's diligence as a collector led her to document several new species of mushrooms. These can be identified by the inclusion of "whiteae" (White) in the species name. Charles Peck bestowed the name Cortinarius whiteae Peck for a species she discovered on Mount Desert Island, Maine, and William Murrill named at least four species for her, including Leptoniella Whiteae Murrill (now Rhodophyllus whiteae Murrill).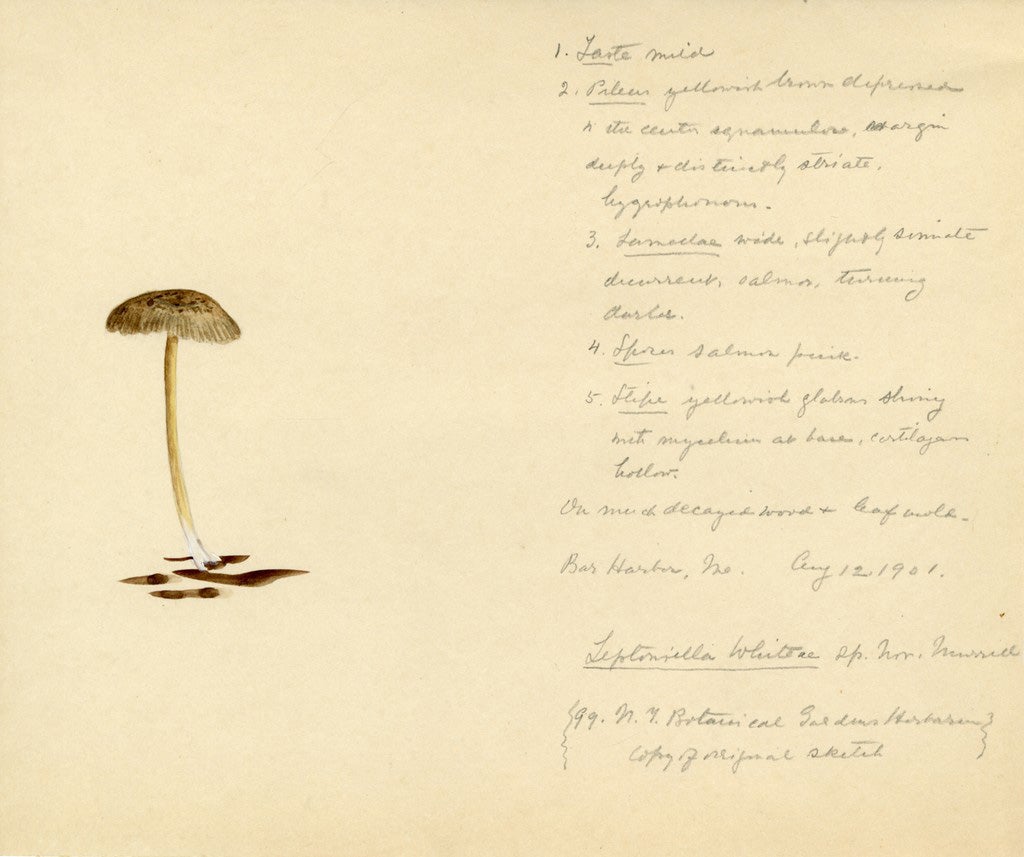 Violetta's discoveries continue to have value for scientific study. The mycologist Rodham Tullos, an expert on the genus Amanitaceae, recently traced an unknown amanita species to a type found by Violetta in 1901. He renamed it Amanita violettae in her honor. The discovery was published in the journal Mycotaxon in 1994.
Why does Bard think it's so important to preserve and share these illustrations?
They represent an important chapter in the 200-plus year story of Montgomery Place and give us a glimpse into the life of one of the many intriguing women who shaped it. While much has been written about Violetta's husband, John Ross Delafield, we have relatively little information about Violetta. Her drawings are the closest thing we have to a journal and they help give us a sense of her interior life.
Bard acquired Montgomery Place in 2016 with the goal of connecting its rich history to modern life in the Hudson Valley, especially through research, exhibitions, and local partnerships. This past fall, Montgomery Place and the Bard Library partnered with the John Cage Trust to create the exhibit Fruiting Bodies: The Mycological Passions of John Cage and Violetta White Delafield. It was an opportunity to give the public a chance to see some of these beautiful drawings, and it coincided with Bard's John Cage Mycology Weekend, an annual celebration of mushrooms on campus. There is a great interest in all things mushroom in the Hudson Valley, with several local mycological societies, farms, and agribusinesses devoted to mushroom cultivation right in Bard's backyard.
Do you have any favorite specimens in the collection?
I could never pick just one! I do have a special fondness for the drawings Violetta made while she was living at Montgomery Place. These were her last mushroom drawings and I think they are among her most beautiful. In August of 1921, John Ross Delafield inherited Montgomery Place and he and Violetta began the task of renovating the mansion and grounds, which had fallen into disrepair. During this time, Violetta's focus was on reshaping the landscape; she created expansive gardens, water features, and garden structures. In 1922, tragedy befell the Delafield family when their eight-year-old daughter Janet died from complications of an ear infection. While we can never definitively know why Violetta stopped drawing, these events may have played a role in her decision to discontinue her work on mushrooms. There are only eleven drawings from this time period, completed between 1922 and 1926.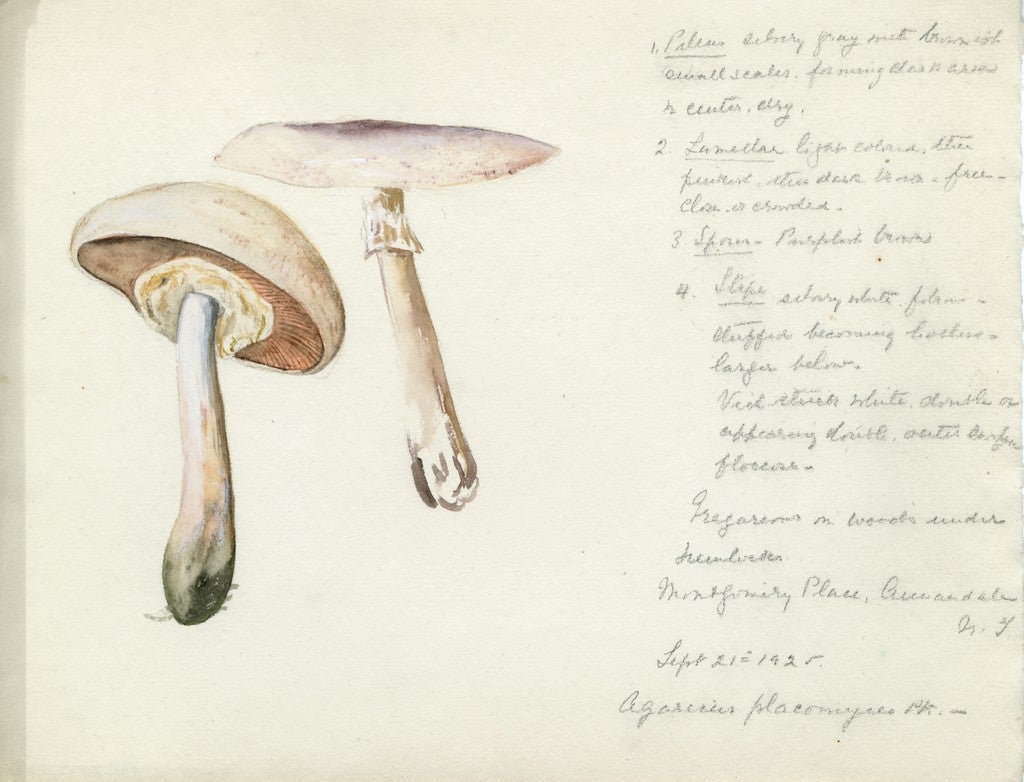 What is involved in archiving the physical artworks? Can people view the actual drawings, or are they in deep storage somewhere?
The drawings are held on the grounds of Montgomery Place in a climate-controlled archives storage facility. They can be viewed by appointment by contacting Lauren Bailey, Montgomery Place Collections and Operations Coordinator.
BROWSE THE FULL DIGITAL COLLECTION ON JSTOR.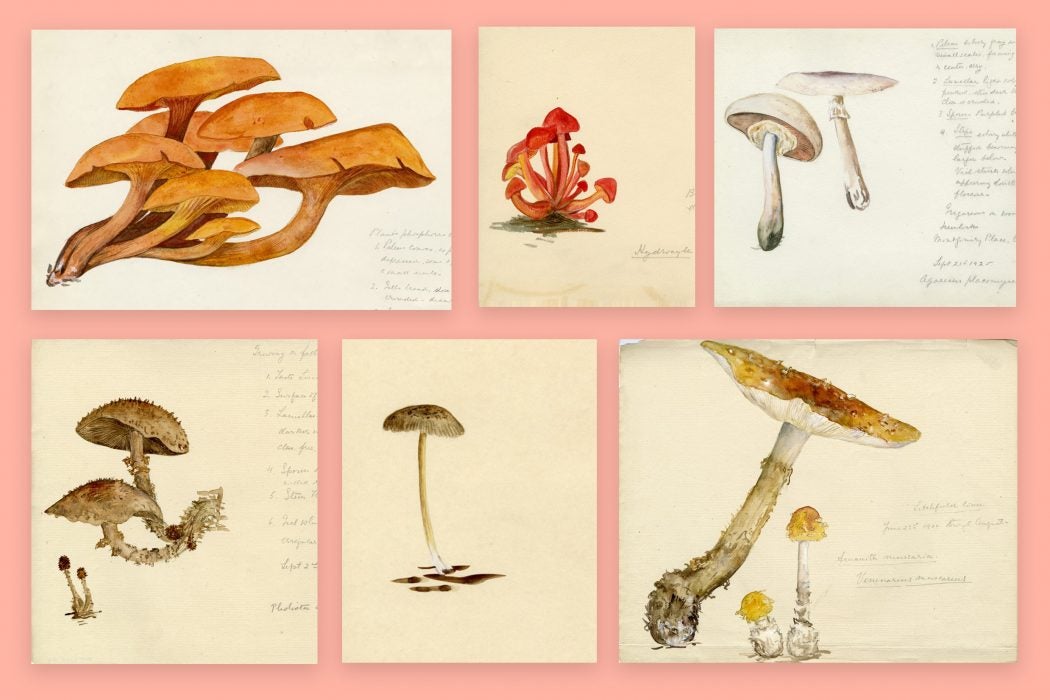 ---
Support JSTOR Daily! Join our new membership program on Patreon today.