Edna St. Vincent Millay was born in 1892 in Maine. In 1912, she was famously discovered at a party at the Whitehall Inn in Camden, where her sister worked as a waitress. Legend has it that the 20-year-old "Vincent," as she called herself, recited her poem "Renascence" to a rapt audience that night, and the rest of her bohemian life was history. Here, we invite you to take a closer look.
1.
Edna St. Vincent Millay
by Edd Winfield Parks
The Sewanee Review, January 1930
ACCORDING to our convention, a woman feels rather than thinks, and is governed by emotion rather than intellect. Until she reached the age of thirty-five, Edna St. Vincent Millay seemed an almost perfect example of this belief: her poetry was intimate rather than conventional, emotional rather than intellectual, realistic rather than philosophical, and inconstant to an extreme. In brief, feminine.
* * *
When in 1912 Edna Millay, then a girl of nineteen, submitted Renascence in a poetry contest, the judges, calmly over-looked it, after the manner of such judges, for a poem whose very title is unknown to day. In sure, simple diction a school-girl seems to grasp the harmony of the universe, with a mystical understanding, with an omniscence [sic] that embraced all the joy, the pity, and the suffering of life.
2.
A draft of "Renascence," from an undated letter to Gladys Niles 
by Edna St. Vincent Millay
3.
Comment: Edna St. Vincent Millay
by Harriet Monroe
Poetry, August 1924
Beginning, before she was twenty and while still a little tomboy of the Maine coast, with Renascence, a poem of desperate faith, lithe as a faun in its naked search of the soul, the danger has been that life might lure her away from art. The complications of a hunted human soul in these stirring days—the struggle for breath, for food and lodging, the pot-boilers, the flirtations, the teasing petty trials and interruptions—how could the poet in her survive all these, and put out fresh flowers of beauty?
4.
FIRST FIG
by Edna St. Vincent Millay
Poetry, 1918
My candle burns at both ends;
It will not last the night:
But ah, my foes, and oh, my friends—
It gives a lovely light!
5.
Edna St. Vincent Millay and the Poetess Tradition
by Elissa Zellinger
Legacy, 2012
Millay's conservative forms communicate rather than confine a modernist affect and intuition. She taps into a poetic tradition that has always expressed emotional insight through conservative poetic conventions. Her poetic restraint derives from her literary lineage as a practitioner of the poetess tradition, which emerged in eighteenth-century England, achieved immense popularity in the nineteenth-century United States, and persisted, as Millay demonstrates, within twentieth-century modernism.
6.
Recuerdo
by Edna St. Vincent Millay
Poetry, May 1919
We were very tired, we were very merry—
We had gone back and forth all night on the ferry.
It was bare and bright, and smelled like a stable—
But we looked into a fire, we leaned across a table,
7.
A letter to Gladys Niles, August 9, 1912
by Edna St. Vincent Millay
8.
by Robert Luhn
The Hudson Review, Winter 1981–1982
Winter 1926
Saw Edna Millay in the hall today outside of Crowny's office. Asked if she thought the weather was "hot enough for her." She looked at me with thinly veiled contempt and swept by me without uttering a word. I thought her attitude odd, considering the poem I had mailed to her the day before:

Love is old
Love is new
Love's the stuff
That makes you brew.
Yaaaaaay love!

I felt that such a poem could not fail to stir something within Edna's heart. And I felt surely that I had made a definitive statement about something Edna had been so desperately trying to express in her own verse. Maybe she is jealous of me.
9.
Millay herself, in a letter, once blamed the decline of her reputation on her political activism. In fact, she had eloquently championed Sacco and Vanzetti in 1927, and a decade later vigorously campaigned against American isolationism. And throughout her career she was an ardent feminist.

…

Millay's dramatization of desire's knotted toils and of understanding's cold comforts remains a remarkable achievement. But behind it looms a huge shadow. The engine that drove her poetry—as it may have propelled her life, through love affairs and addictions—was death. Her fear of it haunted her desperate apostrophes to the romantic moment, and chilled her appraisals of loss.
10.
Fear
by Edna St. Vincent Millay
This is the way you look at it: These men [Sacco and Vanzetti] were Anarchists, and they are well out of the way; you are fortunate to have escaped destruction at their hands; they were probably murderers; but, in any case, they are well out of the way. It was that word Anarchist which brought them to the chair; that word, and your ignorance of its meaning.
11.
What Savage Blossom
by Edna St. Vincent Millay
Poetry, October 1938
Do I not know what savage blossom only under the pitting hail
Of your inclement season could have prospered? Here lie
Green leaves to wade in. And of the many roads not one road leading outward from this place
But is blocked by boughs that will hiss and simmer when they burn—green autumn, lady, green autumn on this land!
12.
Edna St. Vincent Millay with Bliss Carman and George Sterling
by Arnold Genthe, 1914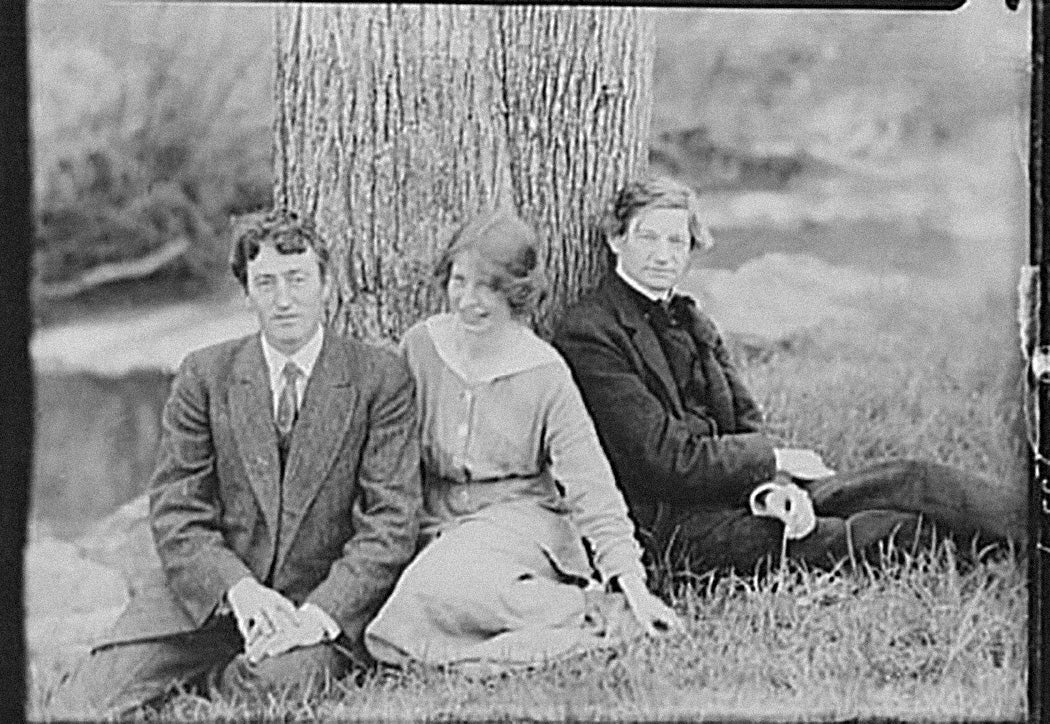 13.
Rendezvous
by Edna St. Vincent Millay
Poetry, May 1939
Not for these lovely blooms that prank your chambers did
I come. Indeed,
I could have loved you better in the dark;
That is to say, in rooms less bright with roses, rooms
casual, less aware
Of History in the wings about to enter with benevolent air
On ponderous tiptoe, at the cue "Proceed."
---
Support JSTOR Daily! Join our new membership program on Patreon today.