In September 2014, Tun Tun Oo, a Burmese land rights activist, was arrested for a seemingly benign deed: He was trying to regrow 90,000 trees in Dedaye, a coastal town in Myanmar. Specifically, Tun Tun Oo wanted to plant mangrove trees, relatively short arboreal structures with tenacious roots that grow in intertidal regions.
When I heard of his story, I was perplexed: Why would someone be arrested for what, on the surface, seems to be an act of environmentalism? I decided to track him down to find out. Reports from the Assistance Association for Political Prisoners (AAPP) indicated that, at the time I was searching for him in Myanmar last October, Tun Tun Oo was still imprisoned and facing trial in Dedaye.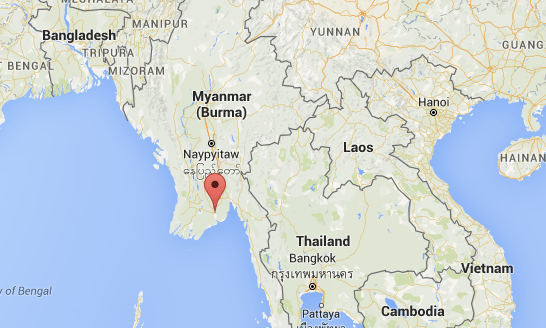 The town of Dedaye is about a two-hour trip from Yangon, Myanmar's largest city. On a rainy Tuesday morning, I took a short ferry ride across the Yangon River, escaping the gridlocked traffic, the incessant honking of cars, and the intermingled scents of fermented fish and fried dough that permeate Yangon's street. Our driver took me, my fixer, and a photographer down the single two-way road that led us into the Irrawaddy delta, the most fertile region of Myanmar. There, the Irrawaddy River—the country's lifeblood, which flows north to south—branches off into innumerable streams and smaller waterways before rushing into the Andaman Sea.
In the Irrawaddy delta, wooden houses with roofs made from folded palm leaves puncture the lush pastures. Our driver slowed down when we had to share the road with buffalo and other livestock, driving past men and women wearing brightly colored traditional longyis—Burmese sarongs slung around the waist like a skirt. Villagers here depend on the water and the rich, fertile land for their livelihood. And farther along the coast, they also depend on mangroves, an impenetrable maze of forests often found where saltwater meets freshwater, to protect against extreme weather.
Although mangrove forests shield waterfront communities from impeding natural disasters, the world had lost more than half its original mangrove cover, and Myanmar 75 percent, by the early 1990s. This massive deforestation has left Dedaye and other seaside villages in the Irrawaddy delta exposed, making them more susceptible to damage from natural disasters, such as Cyclone Nargis, which hit the country's coast eight years ago.
Much of the deforestation in the delta, also known as Myanmar's "Rice Bowl," is driven by economic incentives. Although mangroves are currently protected under Myanmar's forestry laws, established in 1995, there are political and economic incentives for Myanmar to increase agricultural exports. The country continues to welcome international trade and influence, threatening the existence of the already-dwindling ecosystem.
Myanmar started capitalizing on rice as an export crop around 1980, and it is currently the world's sixth-largest rice exporter. Since Myanmar opened up economically to the world in 2010 (following a half century of isolation), the government, led at the time by Thein Sein, has been looking to promote agriculture as a sector for both domestic and foreign investment.
Therefore, when Tun Tun Oo rallied the help of more than 30 villagers in Dedaye to regrow mangroves on top of existing rice paddy fields, local authorities—who are responsible for selling mangrove forest to farmers—halted his plans. They destroyed approximately 70,000 new mangrove plantings and promptly arrested him for trespassing, destroying public property, and other offenses against public order.
Tun Tun Oo became an activist in 1990, during the National League for Democracy's (NLD) campaign. After the 1990 general elections, he was jailed for continuing to work for the NLD after authorities ordered him not to. "After that, I've continued to oppose the military government by participating in protests and activities to protect the basic rights of ordinary people, especially for farmers and workers," he told me while behind bars in the Dedaye courthouse. He wore a shirt that said, in large block letters, "FAILED LAWS."
For the sum of his misdemeanors, he was sentenced to six months in prison on September 23, 2014. But he was incarcerated for more than a year. Only recently, on October 22, 2015, was he released from jail after protesting additional "fabricated" charges made against him. Tun Tun Oo's arrest underscores the unfortunate reality that the conservation of natural resources is often at odds with economic and agricultural expansion. The lack of oversight and mismanagement of mangrove conservation in Myanmar puts coastal villages and communities on the frontlines of natural disasters.
And the rate of deforestation in Myanmar has been shown to be drastic, among the fastest in all of Southeast Asia. Using satellite imaging, scientists have found that, from 1978 to 2011, approximately 81 percent of mangroves in the Irrawaddy delta have been converted to rice paddy fields. Mangroves now make up less than 8 percent of the total land in the delta.
"If all the mangroves in the world are depleted, global seafood stock would follow suit and decline in the next five years or so," said Dan Friess, a geographer and ecologist who runs the Mangrove Lab at the National University of Singapore.
Mangroves are also excellent carbon buffers: An acre of mangrove forest can buffer nearly four times more carbon than an acre of rain forest. In turn, this means mangroves are also potent forces against climate change: Regrowing or conserving mangroves can help reduce carbon emissions in a given area by up to 31 percent.
Friess's research alarmingly showed that, if the necessary laws are not passed and implemented, mangroves could be completely deforested in the Irrawaddy delta by as early as 2019.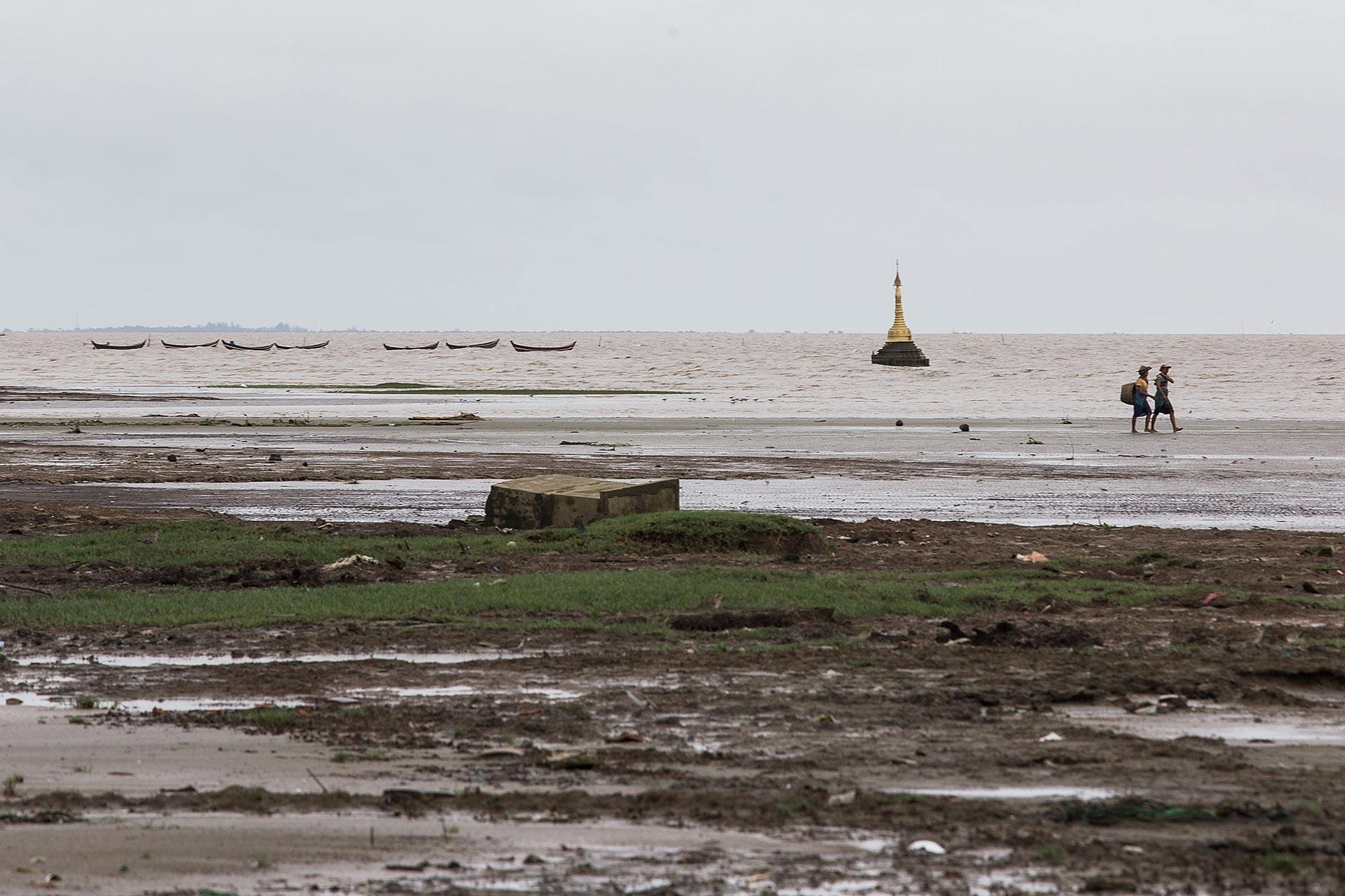 Starting around the late 1990s, local authorities in the township of Dedaye, and all around the Irrawaddy delta region, started selling mangrove forests to local farmers, who would convert them to rice paddy fields. Originally home to approximately 2,800 acres of mangrove forest, Dedaye township now only has around 50.
But before local authorities so frivolously sold much of the mangrove, a man named Myint Soe, a resident born and raised in the Alelgone village of Dedaye, witnessed the steady loss of mangrove forest and wanted to do something about it. At the time, in 1999, he told me, "I didn't know much about how important mangroves would be for our community, but I wanted to protect the remaining 50 acres. We wanted to save the forest and just let the mangroves grow naturally." After receiving permission from the union labor minister and officials, Myint Soe allowed the forest to expand to its current size.
Myint Soe's foresight proved useful when Cyclone Nargis tore through Dedaye in May 2008. Although the cyclone only lasted two days, the damage that it caused, from strong tidal surges and winds gusting over 120 miles an hour, devastated the already-impoverished villages in the delta.
"Cyclone Nargis was the worst disaster I had ever suffered," he said. "I was very scared. My 90-year-old mother was in the house, so I couldn't leave. Seventeen other families from nearby villages that were totally destroyed from Nargis also stayed at my house for shelter."
Myint Soe's home and village, located directly behind a patch of mangrove forest, endured Nargis unscathed. Houses that lay even in the periphery of the mangrove area, however, weren't as lucky. In the wake of Cyclone Nargis, both villagers and government officials started realizing how essential mangroves were as a barrier against natural disasters.
"Cyclone Nargis was a wake-up call to Myanmar officials and the public to conserve and rehabilitate mangroves," said Bo Ni, a senior official of Myanmar's forestry department. "But, in reality, mangrove deforestation is still ongoing through agricultural expansion and destructive shrimp aquaculture in mangrove-rich areas, especially in the coastal areas of the delta."
Immediately following Nargis, local activists started raising public awareness in the delta by educating villagers about the importance of mangroves. In October 2008, Zaw Win, an activist who grew up in Dedaye, started working with Human Rights Watch and Defense Network to raise public awareness in the town and surrounding regions.
Myint Soe, who helped Zaw Win in these efforts, pulled out notebooks from his dusty shelves in which he had diligently documented the times he and others reached out to authorities to ask for permission to conserve mangroves. On August 17, 2009, he and other activists asked Thein Aung, chief minister of the Irrawaddy Division, for permission to regrow mangroves. But their note went unanswered.
Finally, in 2012, Zaw Win and Myint Soe met Tun Tun Oo, who, at the time, lived in Yangon. They and other delta activists told Tun Tun Oo of the extent to which mangroves were being lost. "I wondered why the authorities had transformed the mangrove forests into paddy fields, so I came to Dedaye to see for myself," Tun Tun Oo said.
Tun Tun Oo stayed in Dedaye for two months, working to determine the importance of mangroves by speaking to villagers who were affected by Cyclone Nargis and raising awareness in neighboring towns.
"We never gave him any money for all the work he did for us," Zaw Win said. "But he's always tried to protect our interests. He's a defender of the local people."
In March 2014, Tun Tun Oo and two other activists gave a speech to the villagers in Dedaye, explaining the protective value that regrowing mangroves in the region could have. Local authorities charged all three activists with violations of the peaceful gathering and demonstration law.
When the activists and villagers in Dedaye received verbal permission to start regrowing mangroves from the Irrawaddy Division, Tun Tun Oo's agenda of planting 90,000 trees began in earnest.
With the aid of more than 60 villagers, Tun Tun Oo was able to replot mangrove seeds without the local authorities intervening. "The local authorities didn't do anything. They just watched and took pictures," said Zaw Win. "Then, 20 days later, they destroyed all the newly planted trees." The authorities again charged Tun Tun Oo with violating the peaceful gathering law. They also charged him and 30 other villagers for trespassing.
"I was very shocked that he was arrested," Zaw Win said. "The charges against him are totally unfair. He was just trying to regrow mangroves, and he grew them on top of the soil. But instead he had to face charges for destroying public areas."
It was unsurprising, then, that the authorities were anything but welcoming when I arrived in Dedaye. Two plainclothes officers were ordered to tail me while I was reporting in the delta. Zaw Win explained that, because the same authorities are responsible for selling the mangrove forests into land to grow rice, they've become a particularly sensitive topic in town.
Zaw Win, Myint Soe, and the villagers, on the other hand, were enthusiastic to show me to the remaining mangrove forest in Dedaye township. After a three-hour motorboat ride from Kungyangon, another hour drive east from Dedaye, a short tractor ride through the muddy roads of the village of Alelgone, and a slippery jaunt through the muddy rice paddies, I arrived at the Gulf of Martaban. Two sparse patches of mangrove forest—one that had been untouched and another restored—separated the ocean from the paddy fields. A small village lay just inland, beyond the rice fields. Looking out into the gulf, there was a pagoda that appeared to be sinking. Twelve years ago, it was in the middle of a mangrove forest, which has since been cleared.
"If this area were to be hit by a big cyclone like Nargis again, no one, not even Buddha, could save these people, because the natural walls have already been totally destroyed," Tun Tun Oo told me in the courthouse.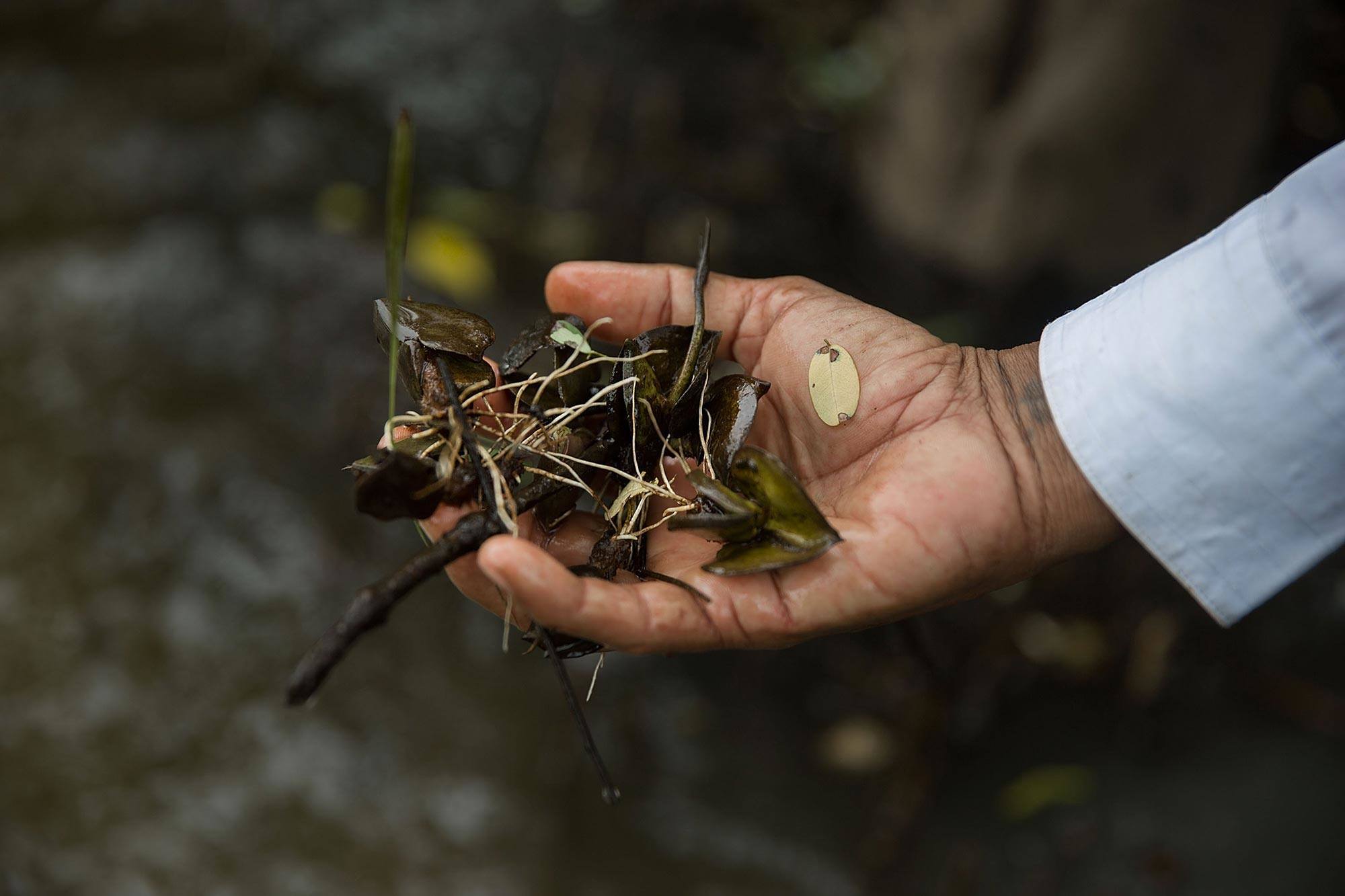 Although so much of Dedaye township's mangroves have already disappeared, perhaps change can come soon: The NLD won Myanmar's recent general elections. The NLD's victory means that, at the very least, there will be a changing of the guard at the local level. The Ministry of Environmental Conservation and Forestry, and nonprofits, such as ECCDI and Myanmar Environment Rehabilitation-Conservation Network (MERN), have helped draft a land rights policy, which will specify the amount of land to be used for agriculture and the amount to be used for forestry. According to Toe Aung, a staff officer in Myanmar's forestry department, the president's office is currently reviewing the completed policy before it will be submitted to the cabinet for review. "We are afraid to say how long the review process will take," Toe Aung says.
In the interim, activists and environmental groups must act. According to Aung Thant Zin, CEO of MERN, some species of mangrove can take 10 years to grow to their full height of approximately 15 feet. It can also take up to 25 years for replanted mangrove ecosystems to regain all their natural functions.
"There are some irreversible damages that you can expect once you lose your natural mangrove forest, the most prominent of which is loss of biodiversity," explains Severino Salmo, a mangrove researcher at Ateneo de Manila University, located in the Philippines. "But, if the stressors—anything that can lead to mangrove deforestation—are totally absent, then the restoration process can begin." Salmo's research has shown that, given sufficient time, restored mangroves can serve once again as breeding grounds for seafood and act as carbon buffers.
Now that Tun Tun Oo is freed of all charges, he plans to continue working on restoring mangroves. "I will surely be jailed under similar charges again," he said. "I will keep working for farmers and local people to protect their basic rights."