Born in a log cabin to a family of missionaries in 1853, Henry Solomon Wellcome went on to enjoy a remarkably different life from his family. While his parents travelled the American Northwest in a covered wagon preaching to the indigenous tribes, Henry Solomon devoted his life to making medicine and studying chemistry and pharmacology. He also had a passion for collecting a great variety of artifacts, from rugs to sculptures, and from medical equipment from to scientific drawings, amassing thousands of items throughout his life. Some 96K items from The Wellcome Collection are now available on JSTOR. The collection's recently digitized images feature unique historical documents—an Arabic text describing diseases of the heart, drawings of old obstetrical instruments, a pulse chart, and scenes depicting poor sanitary conditions in London in the 1800s, to name a few.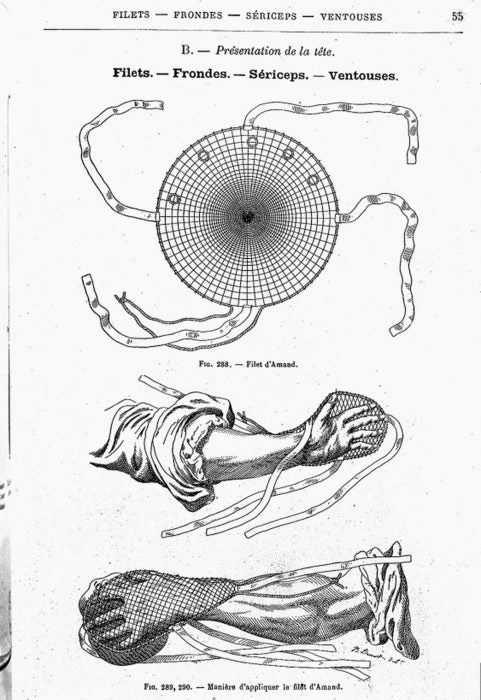 Wellcome's early life had little hints of these future fortunes. Following his parents' journeys, he spent his early childhood amongst the Dakota Indians. In 1859, shortly before the civil war, his family settled in the Garden City, Minnesota. When Wellcome was eight years old, the Dakota Conflict, also known as the Sioux Uprising, broke out and he had to help defend his settlement alongside the adults. Despite fighting on the European side on the conflict, Wellcome's early childhood experiences set his life-long sympathy for Native American tribes, and later in life he penned a history of one such tribe, titled The Story of Metlakahtla. During the conflict, he also helped his uncle, doctor J. B. Wellcome, care for the wounded—and that might have paved way for his interest in making medicines.
As he attended school, Wellcome became interested in chemistry and pharmacy. At fifteen, he started working as a drug clerk in a pharmacy, where he met Dr. William Worrall Mayo, who inspired him to pursue higher education. Wellcome graduated from the Philadelphia School of Pharmacy and Chemistry, moved to New York and worked at several pharmacy firms. He also travelled to South America, visiting the Peruvian forests and learning about the cinchona tree cultivation, the bark of which is used to make quinine —at the time the one and only efficient remedy for malaria. After a few years, he went to London where he formed a company with Silas Burroughs, another ambitious American. Burroughs's died shortly after, but the endeavor was a success and Wellcome continued to grow the company. He had a keen eye for design, branding and marketing opportunities.
However, he also understood the importance of what today we would call fundamental research. He realized that freedom of research was essential to scientific progress so he purposely gave his employees the ability to investigate new therapeutics and other biological products. In 1896, he formed special chemical laboratories tasked with research and study of medicinal and other plants, aimed at isolating therapeutic substances, particularly for treating tropical diseases. Known as the Wellcome Physiological Research Laboratories, his enterprises contributed to the fields of immunology, pharmacology, and similar subjects. One of his efforts resulted in the preparation of drugs in compressed form. Other medical innovations that came out of Wellcome's labs included medicines and vaccines for tetanus and diphtheria, as well as the isolation of histamine, and the standardization of insulin.
As his wealth grew, so did his collecting interests. Early on, Wellcome collected old atlases and tin foil, but later he began to acquire medicine chests, old manuscripts and books, decorative vases, pieces of art and sculpture, rugs and naval memorabilia, and other knickknacks for his home in London. He acquired materials at auctions in London, England, India, and beyond.
As his collecting interests continued to expand, his curiosities no longer fit his home and he began buying warehouses to store the objects he bought. In some years his spending on acquisitions was greater than that of the British Museum, and the total size of his collection was many times greater than the Louvre. Sometimes he bought entire pharmacies and their contents. It appears that he had an idea of establishing a museum of the history of humankind where medicine played a big role, but also including many other topics.
Wellcome decided to officially open his museum in the summer of 1913, as the 17th International Congress of Medicine was to be held in London. The Museum was open from June to September 1913 and was a great success. However, the lack of space was a persistent problem—the place was filled to capacity and with very little working room. The expansion plans were thwarted by World War I, but the museum remained opened throughout. After the war, the Museum served as the headquarters for the 3rd International Congress of the History of Medicine, and Queen Mary herself paid a visit. Despite shortage of space, Wellcome continued collecting—on a scale greater than ever before, so in 1932, the museum moved into a larger building, nearby the British Museum.
At his death in 1936, Wellcome bequeathed his company to a trust for medical science, which today donates more money to research than the British government through its Medical Research Council. The museum, however, was a more complicated endeavor. While Wellcome had originally envisioned it as a museum of the history of medicine, his collection grew way beyond that. It included ethnographical collections, archaeological collections of various periods, ship models, arms, steel doors, and other objects. A rough catalogue issued shortly after his death listed "1100 cases of ethnological objects, 100 Graeco-Roman and other classical objects…80 cases of miscellaneous small arms, 150 cases of prehistoric objects, 300 framed pictures…85 cases of surgical instruments…60 cases of pestles and mortars, 170 cases of Peruvian objects…74 cases of weights and measures." The decision was made to focus the museum on the history of medicine—and get rid of the rest.
Over the next few years, the museum had sold, donated, and disposed of numerous artifacts—five tons of old photograph albums and waste paper, three tons of old steel safe doors two tons of rotten wood. Two thousand paperback novels were sent to the Red Cross. Old rifles were actually put to use during World War II. After the war, the museum held various exhibitions, including "Prehistoric Man in Health and Disease" and "Medicine of the Aboriginal Peoples of the British Commonwealth". Today, the most valuable and important items of his fortune reside in the Wellcome Collection in London. It can also be explored digitally—a trove of marvels that may be just the perfect medicine for the "incurably curious."
BROWSE THE WELLCOME COLLECTION ON JSTOR.
---
Support JSTOR Daily! Join our new membership program on Patreon today.