As the already precarious legal rights of trangender Americans come under renewed threat, it's worth looking back at the first political movement around gender identity in the modern West. As German Studies scholar Katie Sutton writes, that was activism by people in Weimar Germany who referred to themselves as "transvestites."
Sutton writes that sex researcher and political activist Magnus Hirschfield invented the term "transvestism" in 1910. "Transvestites" were understood as people whose gender identity and preferred clothing did not align with the sex to which they were assigned at birth. Hirschfield was part of an academic effort to define sexual orientation and gender identity as variable natural phenomena rather than moral matters.
Under German law, cross-dressing could be prosecuted as a public nuisance. But starting in 1908, the government began issuing "transvestite certificates" with the support of Hirschfield and other scientists and psychologists. Holding a "transvestite certificate" allowed people to legally wear clothing that contradicted their assigned biological sex.
After World War I, Sutton writes, continuing urbanization, social liberalism, and the spread of new "scientific" ideas about sexuality in the Weimar Republic helped usher in a movement for gay rights. The nation's two major gay organizations sponsored subgroups and publications for transvestites. In big cities, they organized lectures, fashion parades and balls, and other social events. For trans people scattered across the country, they published magazine columns and supplements.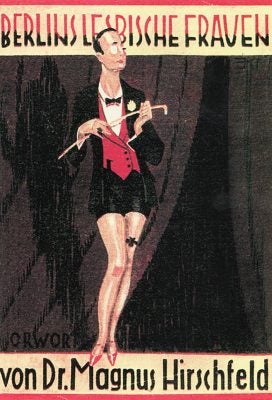 The science of sex that Hirschfield and other German researchers were developing informed transvestite organizing. In the magazine supplements, readers debated "sex-change" operations and discussed the biological underpinnings of their identities. One described blood tests required to apply for an official name change, which supposedly revealed "gender-specific elements of both sexes."
Like the larger gay rights movement at the time, the public face of transvestite organizing was middle-class and focused on bourgeois values. Fighting back against lurid media stereotypes of cross-dressing criminals, the organizations worked for more visibility of "respectable" trans people. They called on their members to apply for transvestite certificates en masse and to "confess" their identity to their spouses, families, and coworkers. Middle-class male-to-female transvestite organizers policed their peers, rejecting gaudy clothing and celebrating the ability to "pass" as a middle-class lady. (Female-to-male dressing was simpler since masculine clothing was fashionable for cis women in the mid-20s.)
Despite their organizational connections with gay groups, transvestite activists drew a line between gender presentation and sexual orientation. Female-to-male transvestites were often sidelined, partly because they were closely identified with lesbian culture. Many male-to-female representatives featured in the movement's media took pains to declare themselves heterosexual—by which they meant biologically male people who were attracted to women. (A flip side of this was gay men embracing militaristic masculinity to gain acceptance within the rising Nazi party.)
Despite all their self-policing, the transvestite movement came under attack when the Nazis gained power. The party made Hirschfield's Institute of Sexology one of its first targets in 1933. Still, the activists' work helped pave the way for today's transgender movement.