Blame the Balenciaga IKEA bag. When the $2,145 luxury lambskin version of the familiar blue plastic shopping bag appeared on the runway in June 2016, it was the beginning of the end of a glorious era of capacious hobo bags, boat totes, and bucket bags. The upscale counterfeit triggered a backlash against fashion's flirtation with so-called poverty chic, but also against gigantic bags in general. From a 19-gallon capacity, there was nowhere to go but down.
Even Meghan Markle—whose first official public appearance with Prince Harry spiked sales of Everlane's roomy (and relatively affordable) leather Day Market Tote—took up her duchess duties and swapped commoners' carryalls for dainty, handled purses by high-end labels, including Gabriela Hearst, DeMellier, and Strathberry. Cue sellouts, waitlists, and crashed websites: Tiny purses were officially in.
The petite purse trend reached its nadir in February 2019, when French label Jacquemus debuted the Mini Le Chiquito, a postage-stamp-sized version of its bestselling handbag. Barely big enough to hold a couple of breath mints, the teeny-weeny tote got big LOLs on social media, where it drew comparisons to binder clips and Barbie accessories. Jacquemus was in on the joke; the bag was made for the runway and not for sale. Nevertheless, it inspired imitations. Louis Vuitton and Prada soon introduced their own nano-bags.
Does purse size matter? For women, the purse has always been political, a reflection of changing economic realities and gender roles. While a large bag—however ugly or expensive—will always have a certain utilitarian value, small bags have historically been mocked and derided—and their female wearers with them.
Until the late eighteenth century, purses were small, unisex accessories, used to hold money and nothing else; they had more in common with wallets than handbags. They might be worn tucked in a pocket or dangling from a belt. At the court of Versailles, round-bottomed drawstring bags—often made of velvet and intricately embroidered with the owner's coat of arms—held one's gambling winnings or charitable donations. According to Miss Abigail Adams, who attended mass in the Royal Chapel on Pentecost in 1785, "the lady who goes round to collect the [alms] in a small velvet purse… was more elegantly dressed than any other person. After the king had entered, she went round to the knights, and with a courtesey the most graceful, presented her little purse to each. I am sure no one could have refused putting a louis in."
Women didn't need to carry anything but cash in their purses at the time, because their wide hoop petticoats allowed space for roomy pockets. While men had pockets of various sizes sewn in their coats, waistcoats, and breeches, sometimes including long "bottle pockets" concealed in coattails, women's pockets were separate garments, worn on a ribbon around the waist, under the gown, and accessed through slits in the gown's seams. According to James Henry Leigh Hunt, a lady's pocket might hold her purse as well as other essentials, including "a pocket-book, a bunch of keys, a needle-case, a spectacle-case, . . . a smelling-bottle, and, according to the season, an orange or apple." It might be bought, lost, or stolen, as in the children's rhyme beginning: "Lucy Locket lost her pocket." Its closest contemporary equivalent is not the stylish purse, but the serviceable fanny pack. The enormous muffs popular with both sexes in the 1780s also served as carrying cases for tobacco, sweets, handkerchiefs, and occasionally even a small dog. From the time of the handbag's introduction in the late eighteenth century, its size would rise and fall in tandem with the volume of women's pockets and muffs.
Larger purses did exist in the eighteenth century, but they were "workbags," used for transporting sewing, embroidery, or knotting instruments and materials. Workbags may have suggested or served other uses, however. In 1769, Lady Mary Coke saw ladies knotting at the opera and admitted: "I never knott, but the bag is convenient for one's gloves and Fan." The workbag—often a beautifully embroidered work of art in its own right—advertised one's feminine accomplishments and industry rather than one's fashion sense.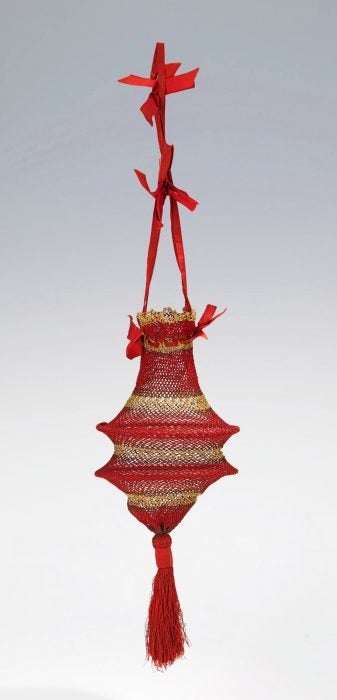 The dramatic change in women's fashion in the late 1780s—accelerated by the French Revolution of 1789—put an end to the pocket. Bulky underpinnings would have ruined the slim line of the columnar white gowns of the Directoire and Empire, which emulated the diaphanous draperies of classical statuary. Small, handheld purses called "reticules"—often decorated with tassels, fringe, or embroidery— became essential accessories. Women wore "a more or less ornamental bag with each gown, some being fastened to the waist, others suspended by long ribbons from the arm." In addition to providing much-needed storage, reticules enlivened the simple, high-waisted silhouette while calling attention to newly bared arms and graceful hands. At the same time, women began to wear drawers or underpants, because their gowns were so body-conscious and transparent, and cashmere shawls, for warmth.
The term "reticule" comes from reticulum, the Latin word for "net." Many of these early reticules were netted, and netting purses became a popular female pastime, as Mr. Bingley noted in Jane Austen's Pride and Prejudice. Reticules might also be made of fabric, embroidered or ornamented according to the latest trends, providing a conspicuous and relatively affordable way for women to follow fashion. During Napoleon's campaigns, reticules mimicked flat military sabretaches, or sported sphinxes, or portraits of Bonaparte himself. In December 1801, the nomenclature was so new that Catherine Wilmot, an English tourist in Paris, felt it necessary to define it in a letter, making reference to the earlier and more familiar form of handbag, the workbag:
We have not seen Bonaparte yet, except adorning 'Reticules' (which are a species of little Workbag worn by the Ladies, containing snuff-boxes, Billet-doux, Purses, Handkerchiefs, Fans, Prayer-Books, Bon-bons, Visiting tickets, and all the machinery of existence).
Napoleon's wife, Joséphine, was instrumental in popularizing the new style of dress, with all its attendant accessories.
Reticules fully embroidered with glass beads resembled miniature mosaics. These beaded bags were:
…marvels of patience and eyesight. Tiny, almost imperceptible beads of every hue and shade were woven or knitted into a firm textile, that has outlasted the memory of those who made and used these gorgeous receptacles. Pastoral scenes and quaintly costumed figures were wrought with a fidelity to detail that is marvelous.
Several examples of these sturdy reticules survive in museum collections to this day.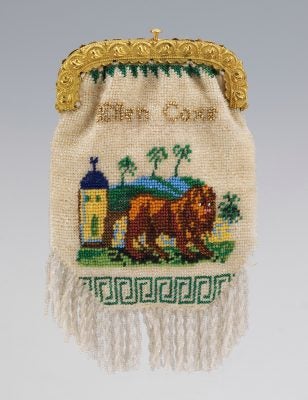 Satirists dubbed the new must-have accessory the "ridicule," because it was so small and insubstantial as to be virtually useless. In Austen's Emma, the ridiculous Mrs. Elton carries a "purple and gold ridicule." George Cruikshank caricatured the reticule is his Monstrosities of 1822, depicting fashionably dressed strollers in Hyde Park. Even fashion magazines adopted the pejorative term: the February 1804 issue of the Lady's Monthly Museum included a fashion plate captioned: "A Kerseymere Spencer… with Tippet. Purple ridicule."
But reticules had another, more complimentary nickname: "indispensables." On September 9, 1802, Eliza Southgate of Massachusetts wrote to her mother that a friend visiting Paris had "sent me a most elegant indispensable, white lutestring, spangled with silver." And, during Lord Melvilles' impeachment trial in London in 1806, Charles Kirkpatrick Sharpe observed that "rows of pretty peeresses… sat eating sandwiches from silk indispensables." These contrasting depictions of the reticule—ridiculous or indispensable, frivolous luxury or practical necessity—capture the cultural ambivalence surrounding the new fashion, and fashionable clothing in general in the new, post-Revolutionary political and economic climate.
However, contemporary etiquette guides suggest that reticules were not so "indispensable" that women gave up their pockets entirely. Nostalgia for the commodious and concealed pocket remained strong. Theresa Tidy's 1819 advice manual Eighteen Maxims of Neatness and Order advised: "Never sally forth from your own room in the morning without that old-fashioned article of dress—a pocket. Discard forever that modern invention called a ridicule (properly reticule)." By 1890, the magazine The Decorator and Furnisher lamented "the scarcity of pockets in women's attire" which necessitated "the survival of the old fashion of carrying bags and satchels." The purse, not the pocket, was seen as the temporary interloper. But recurring predictions of the purse's death proved to be unfounded; it had become so fashionable that its function (or lack thereof) was irrelevant.
Today, when women's pants, dresses, and even wedding gowns are frequently equipped with spacious pockets, a tiny purse might well be enough to hold any other essentials. It's a fashion statement, to be sure, but it also makes other kinds of statements, signaling a minimalist lifestyle, a low-maintenance personality, or, perhaps, an entourage of PAs, stylists, and servants who handle life's baggage. The nano bag's days may be numbered, though. With the erstwhile Meghan Markle—now Duchess of Sussex—having just had a royal baby, don't be surprised if roomy diaper bags are the new black.