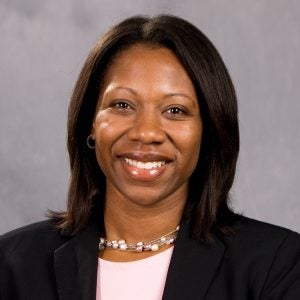 Eboni Nelson
Dean Eboni S. Nelson joined the faculty of the University of South Carolina School of Law in 2007. Her courses consist of Contracts, Commercial Law (Sales and Negotiable Instruments), Consumer Law, and Race, Class and Education. Prior to joining the faculty, she taught Commercial Law (Sales, Negotiable Instruments, and Secured Transactions) and Texas Consumer Law at Thurgood Marshall School of Law in Houston, TX.

Dean Nelson graduated summa cum laude from Wake Forest University where she was elected to Phi Beta Kappa. She received her J.D. from Harvard Law School where she served as a Contracts teaching assistant for Professor Elizabeth Warren. After graduating from Harvard, she practiced employee benefits in the Houston office of Bracewell LLP. During her time at the firm, Dean Nelson was an adjunct professor at the University of Houston Law Center where she taught Taxation of Compensation. During the Fall 2004 semester, she was a visiting assistant professor at the Law Center where she taught Contracts and Texas Consumer Law.

Dean Nelson's scholarly interests include various issues related to education law and policy. She is particularly interested in the provision of educational opportunities for disadvantaged students as well as the intersection of consumer law and education issues.

Her articles concerning affirmative action in higher education and the constitutionality of race-conscious student assignment plans have appeared in the Journal of College and University Law, the University of Miami Law Review, and the Iowa Law Review among others. Her articles examining issues related to young consumer credit card indebtedness have appeared in the Utah Law Review, the Villanova Law Review, and the Banking & Financial Services Policy Report.

From 2014 to 2018, Dean Nelson served as the vice-chairperson of the South Carolina Commission on Consumer Affairs. She has also served as the vice-chairperson of the South Carolina State Advisory Committee to the U.S. Commission on Civil Rights and as a member of the Law School Admission Council (LSAC) Diversity Initiatives Committee.  She is currently a member of the LSAC Finance and Legal Affairs Committee and the American Bar Association (ABA) Sabbatical Review Site Team. She is also a member of the Board of Directors of Sistercare, Inc., a nonprofit organization dedicated to assisting survivors of domestic violence and their children.